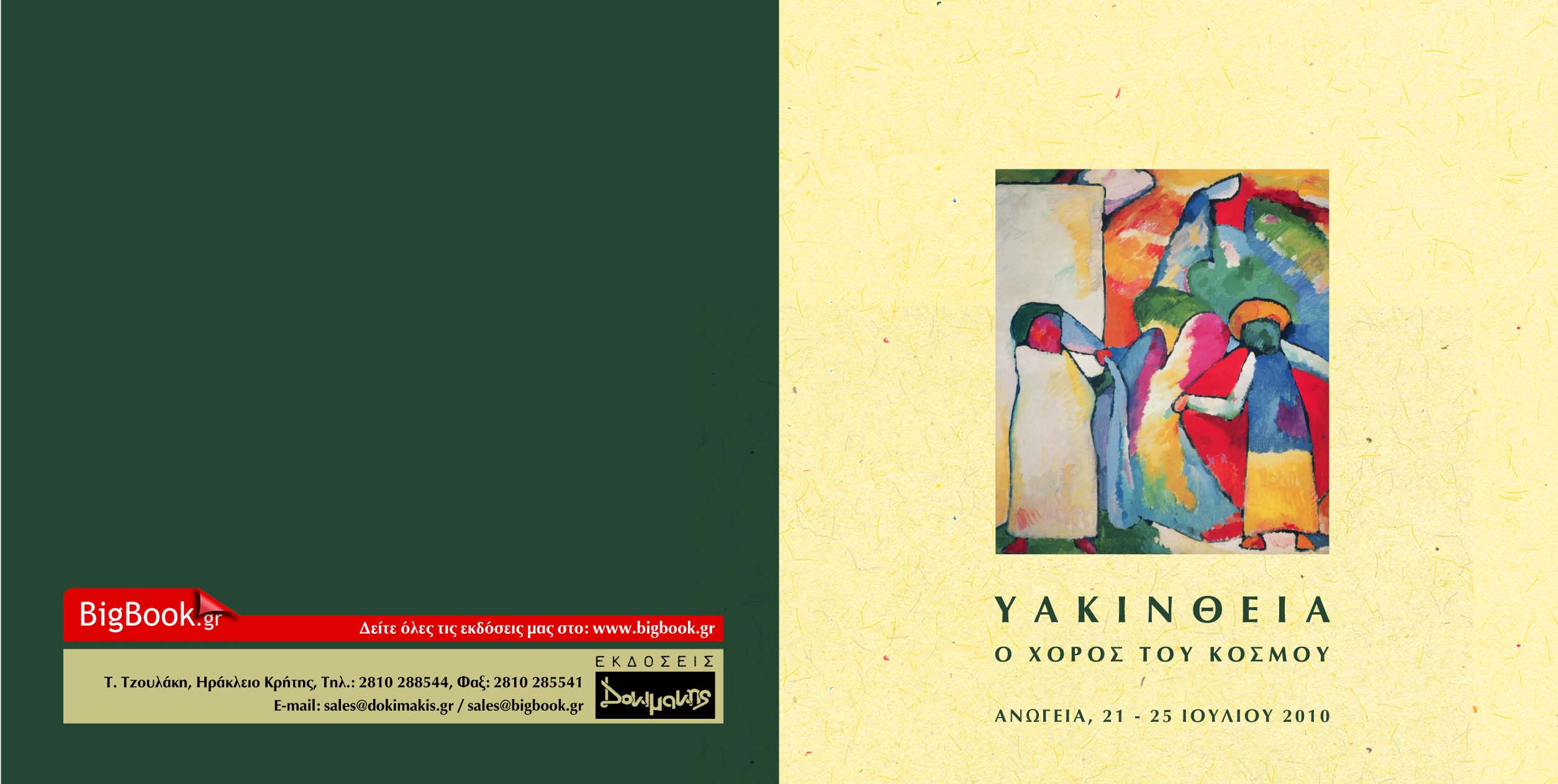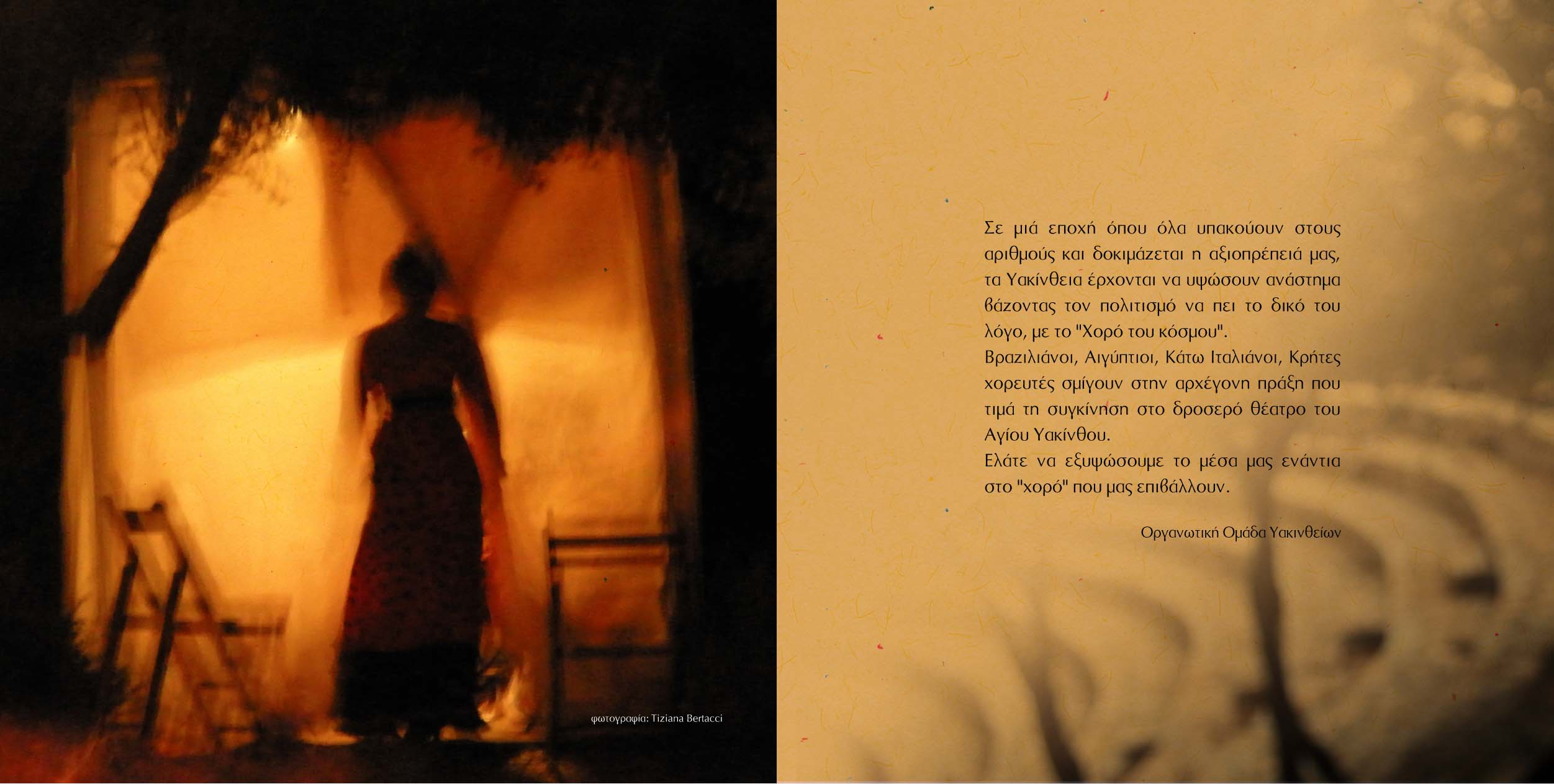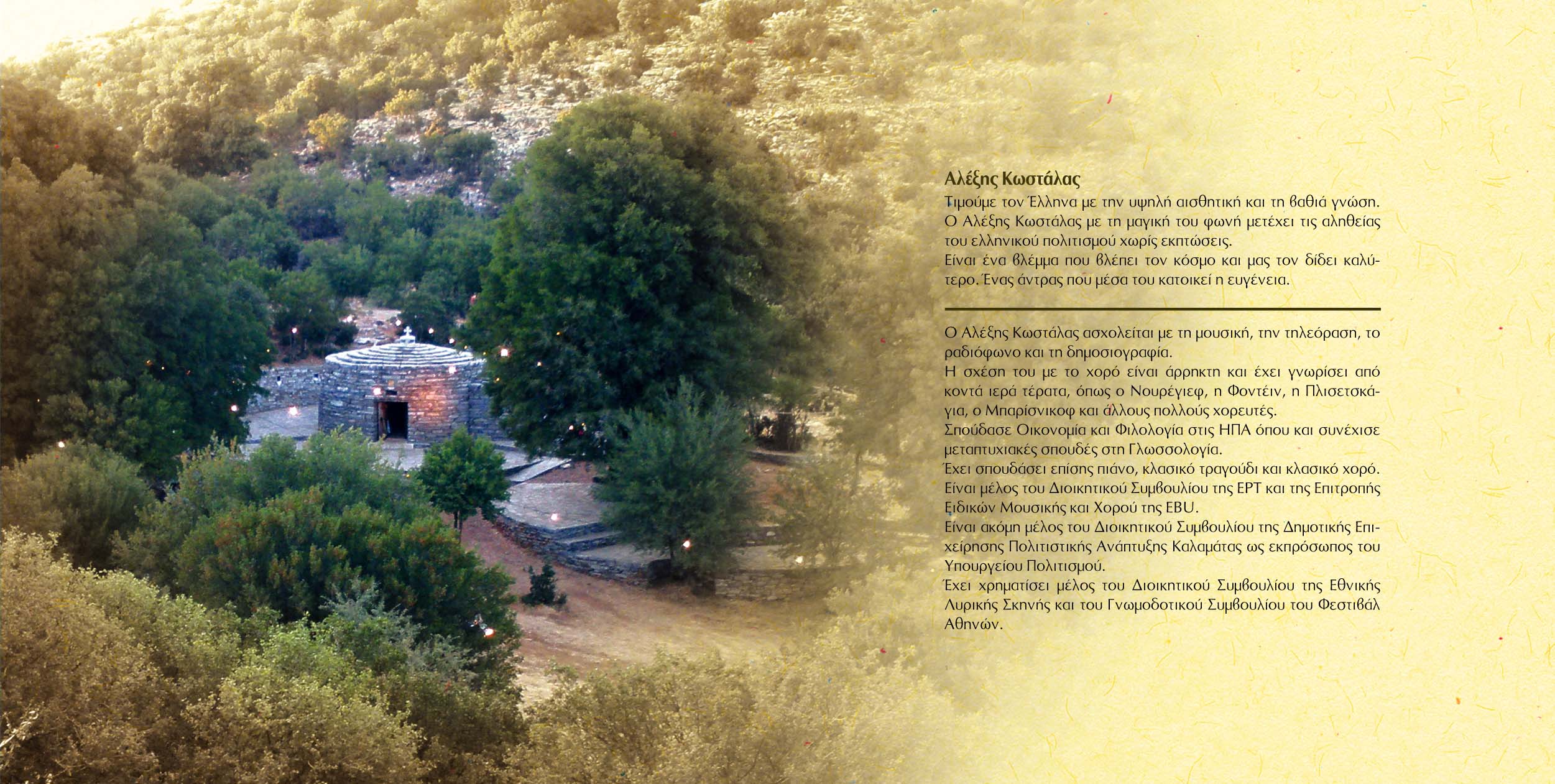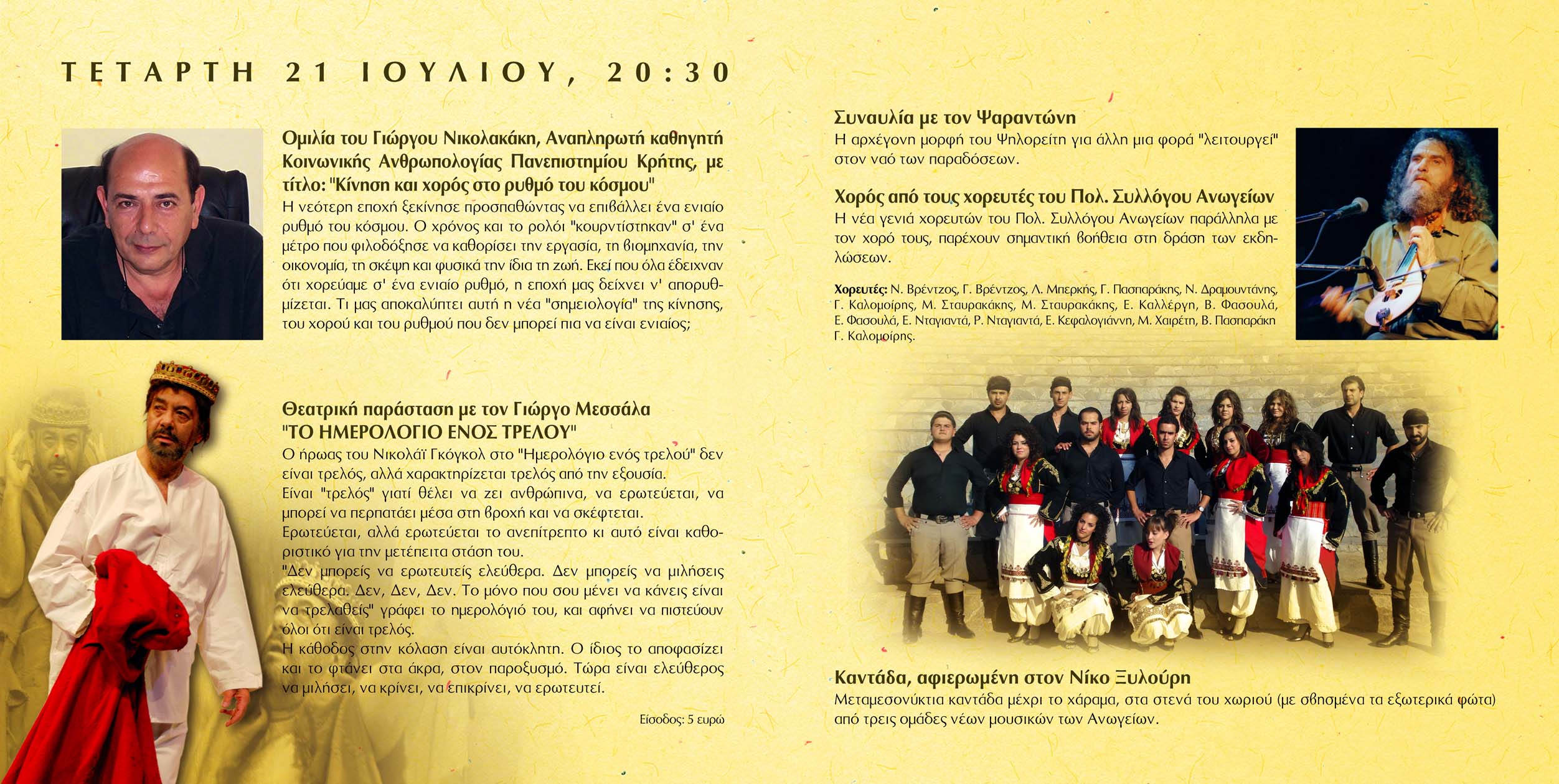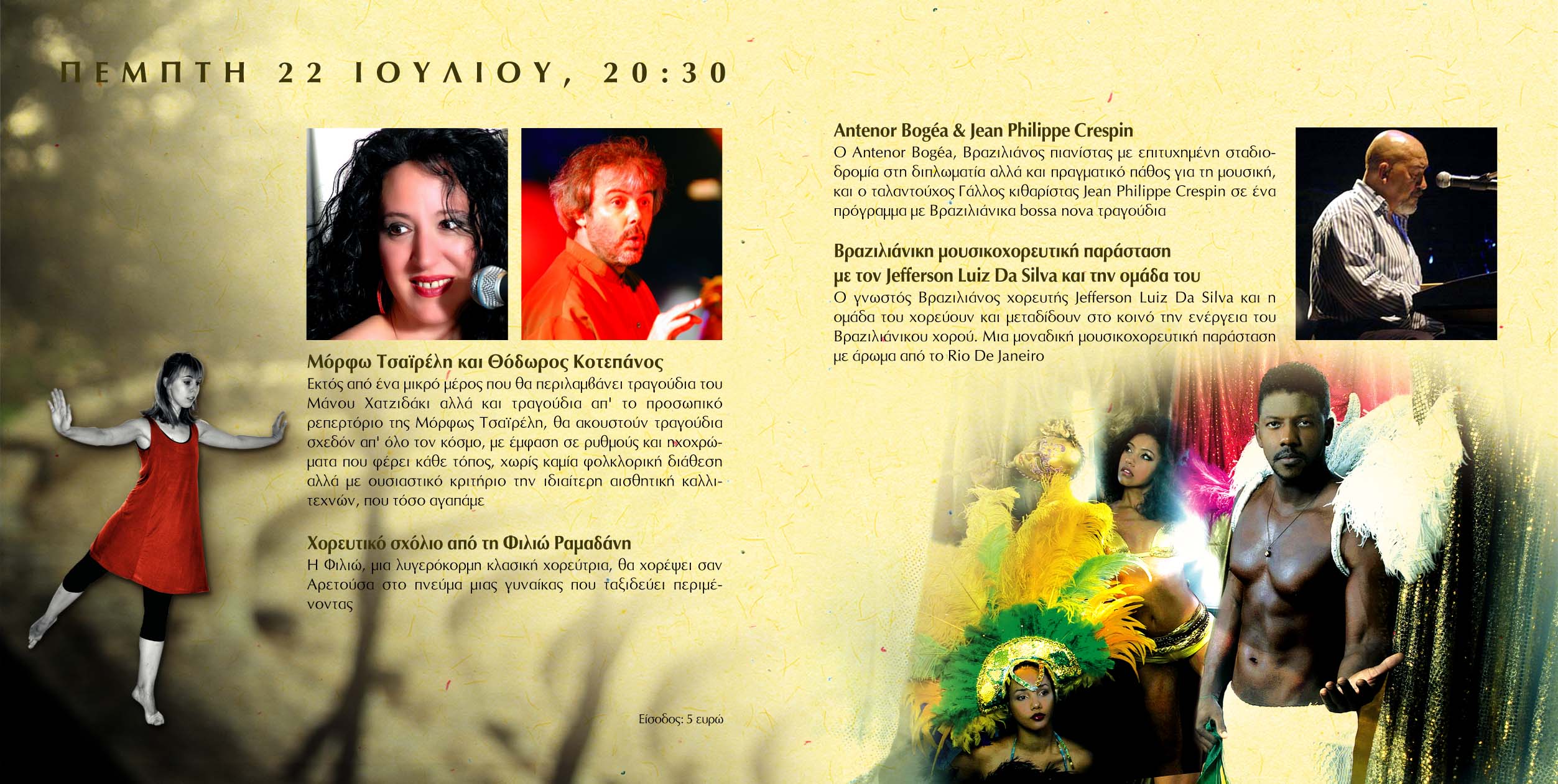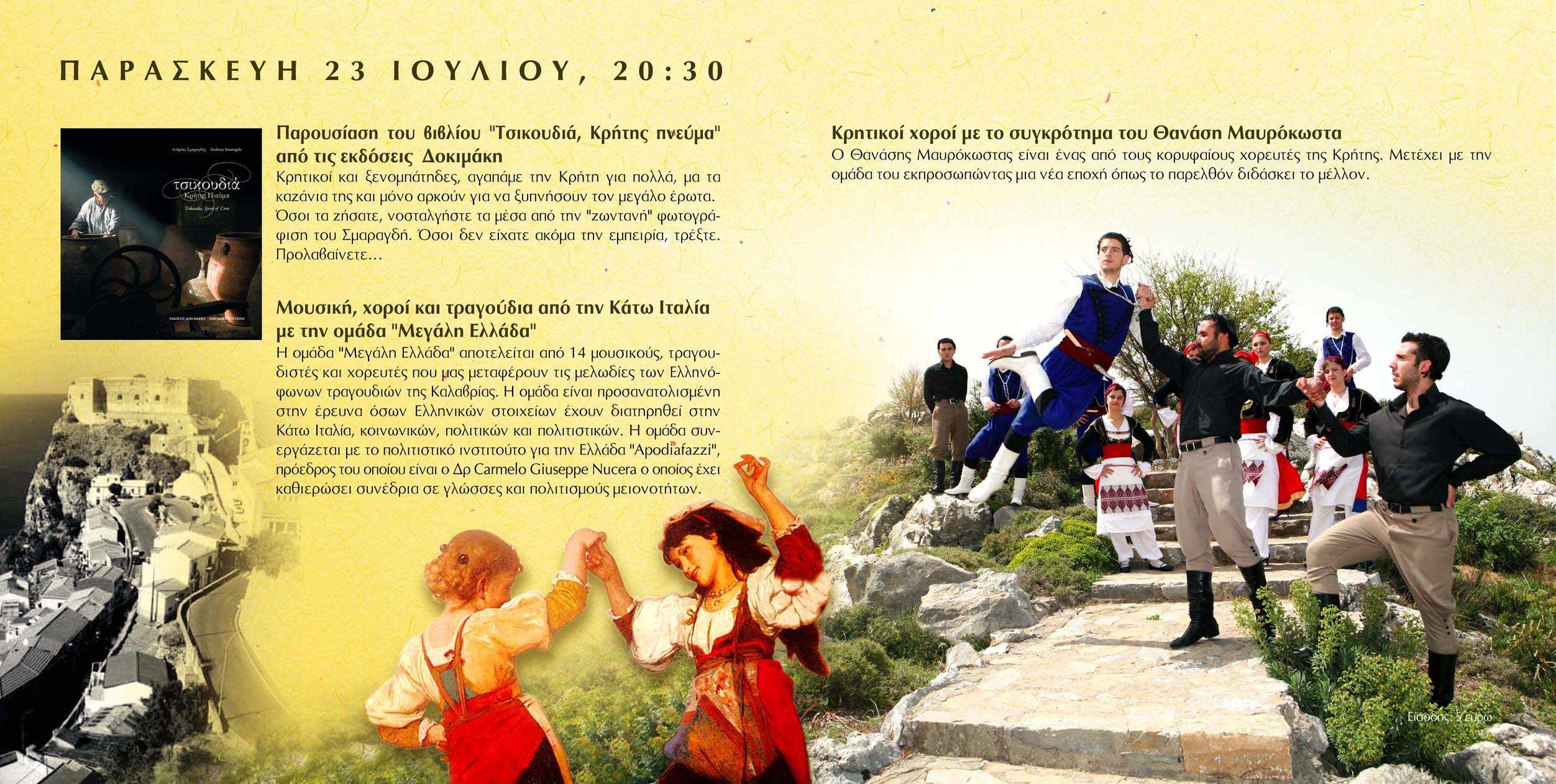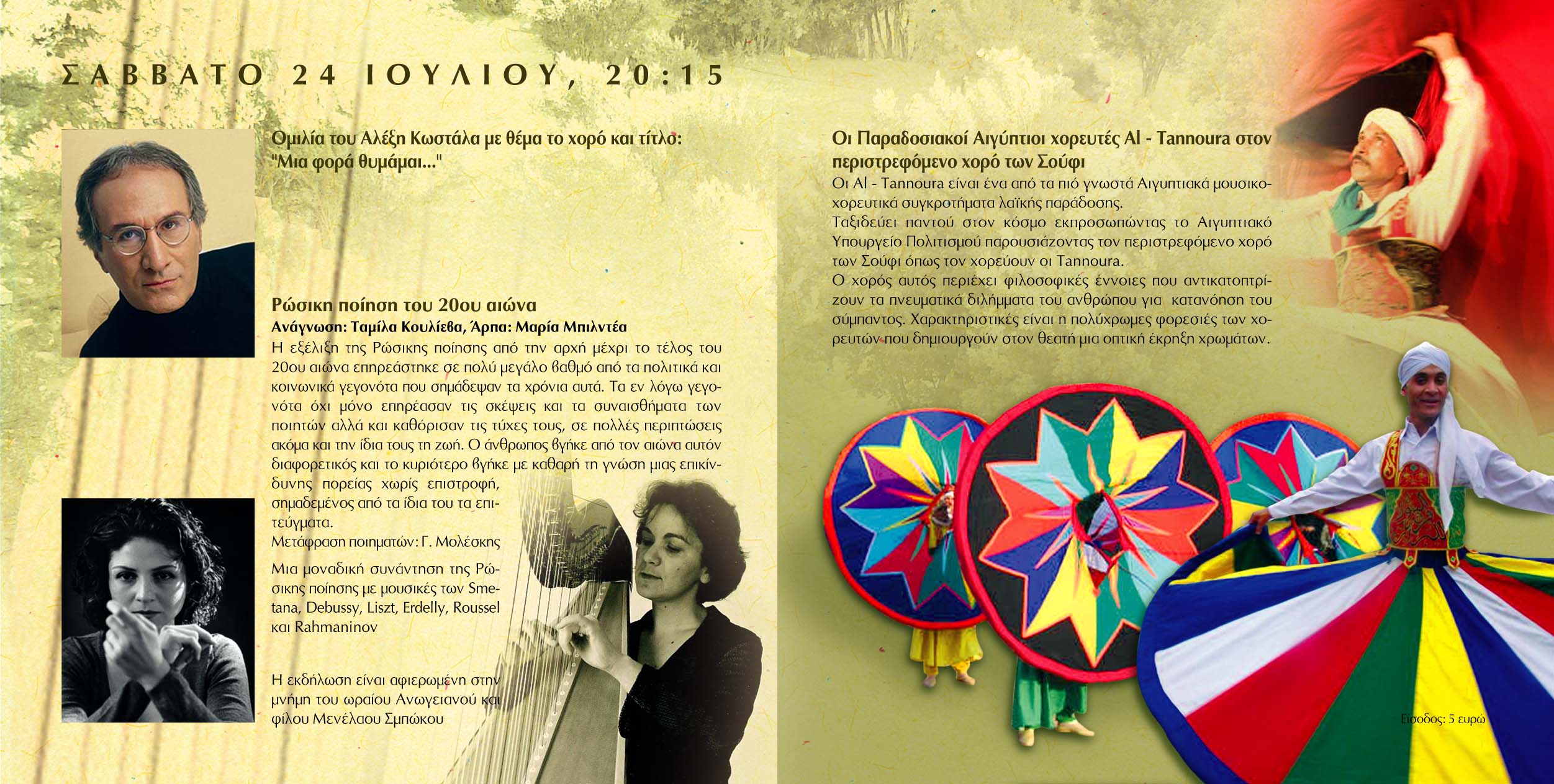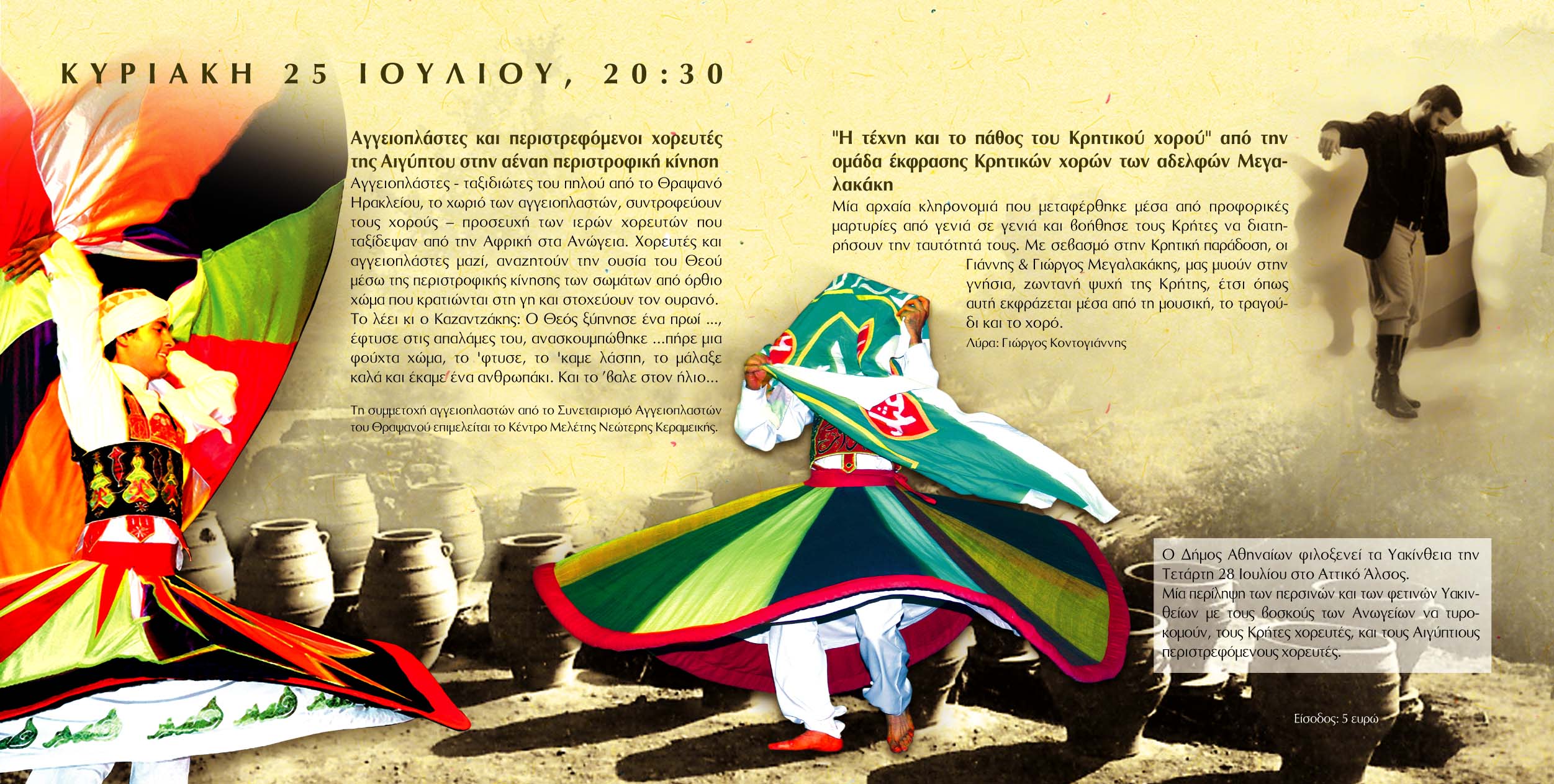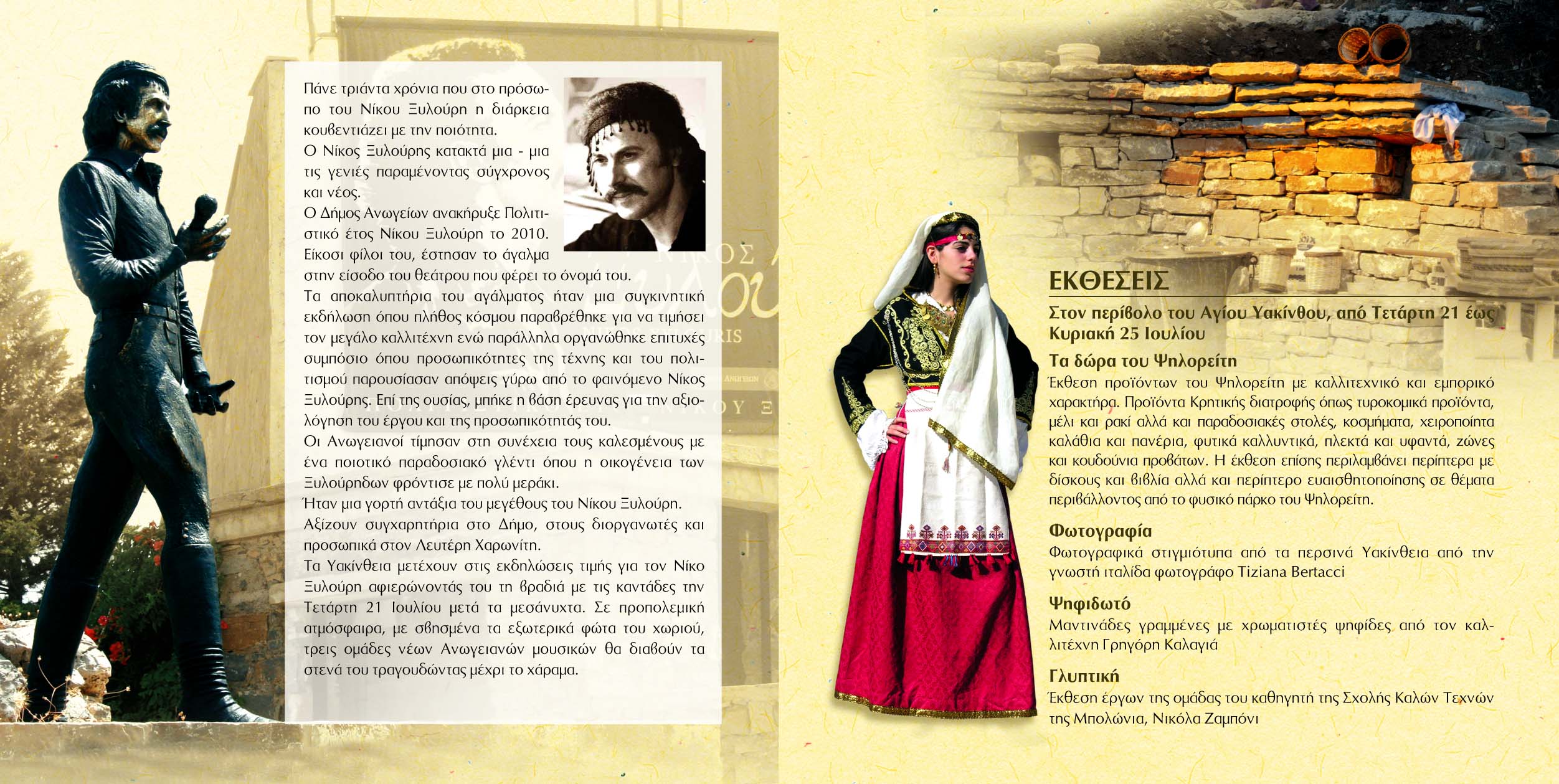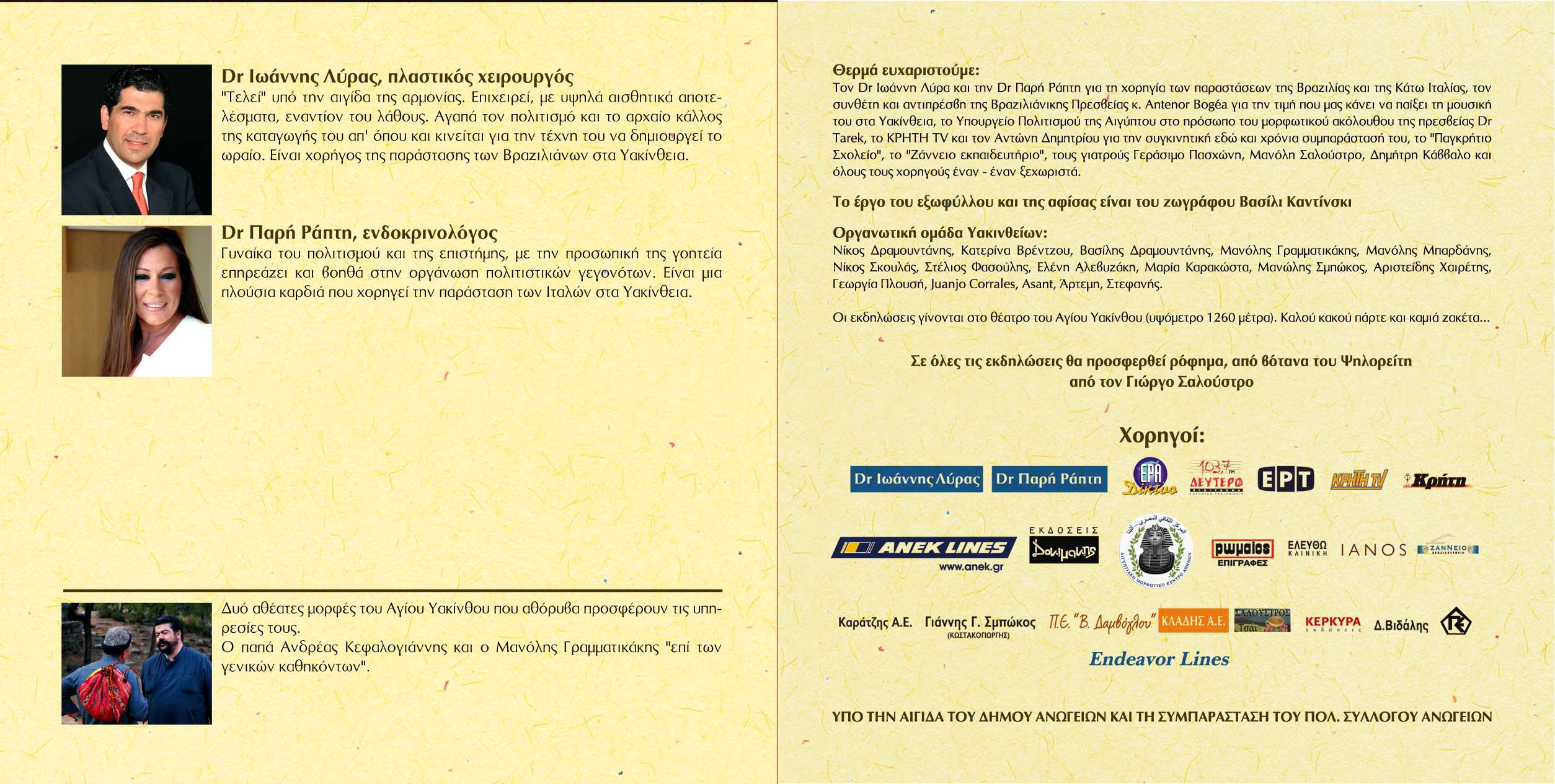 At a time when everything obey the numerals and our dignity is tested, Yakinthia stand stature and put culture to tell its own reasons, with the "Dance of the world." Brazilians, Egyptians, South Italians, Cretans dancers come together in the primordial act that honors the emotion, in the cool theater of St. Hyacinth.

Let us exalt our inside against "dancing" imposed on us.


On Wednesday, July 21 the festival premiered with the speech of George Nikolakakis, associate professor of Social Anthropology, University of Crete, entitled "Movement and dance in the world pace."
The program of the first day continued artistically, with the show «The Diary of a Madman» b> by Giorgos Messalas and could not be absent from Psiloritis a unique concert with Psarantonis b> and dance by dancers of the Cultural Association of Anogeia.
The first day ended after midnight serenade, dedicated to Nikos Xylouris, until dawn through the narrow streets of the village (with faded exterior lights) from three groups of young musicians of Anogeia.

On Thursday July 22 b> in the line was Morpho Tsaireli and Theodore Kapetanos with Manos Hadjidakis songs and music from around the world. Filio Ramadani has enriched the night with dance. A classical dancer who danced like Aretousa ...

For lovers of world music, Brazilian pianist Antenor Bogéa and the French guitarist Jean Philippe Crespin filled the music evening with Brazilian and bossa nova songs, while followed a Brazilian musical tradition with Jefferson Luiz Da Silva and his team.

And because there is no Crete without raki, on Friday July 23, was presented the book "Raki, Crete spirit" of Dokimaki publications. Friday program also included music, dances and songs from South Italy with the group "Great Greece" and Cretan dances with the group Thanassis Mavrokostas.


On the next day, Saturday, July 24 b> Alexis Kostalas spoke on the subject of dance entitled "Once upon a time I remember ...". Yakinthia honored Alexis Kostalas, a man with high aesthetics and deep knowledge.

Tamila Koulieva was recited Russian poetry of the 20th century, and was accompanied by Maria Bildea with her harp. The Saturday program ended spectacularly with traditional Egyptian dancers Al - Tannoura the rotating dance Sufi.

On Sunday, July 25 two different but equally charming forms of dance "closed" this year's Yakinthia. These are the Potters and rotating dancers of Egypt in perpetual rotary motion and the Cretan dances expression group Megalakakis brothers.

Last but not least, from Wednesday 21 to Sunday 25 July, there were, in the area of St. Hyacinth, the following exhibitions: "The Psiloritis gifts": Exhibition of Psiloritis products with artistic and commercial character. Cretan food products such as dairy products, honey and raki and traditional costumes, jewelry, etc.

"Photo": Snapshots from last year Yakinthia from the renowned Italian photographer Tiziana Bertacci.

"Mosaic": Mantinades written in colored mosaic by artist Gregory Kalagia.

"Sculpture": Exhibition of the Faculty of Arts Teacher Team of Bologna, Nicola Zamboni.