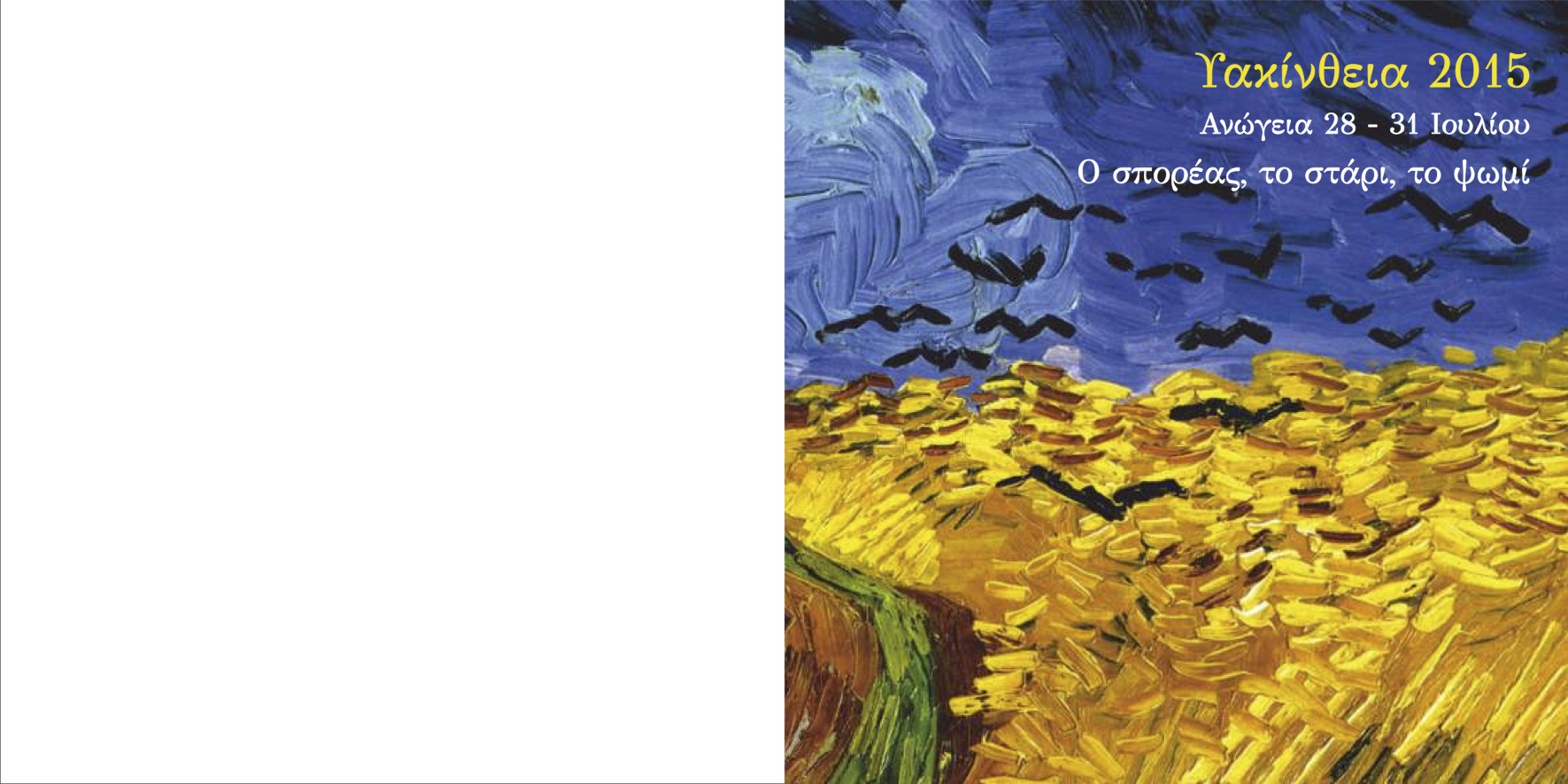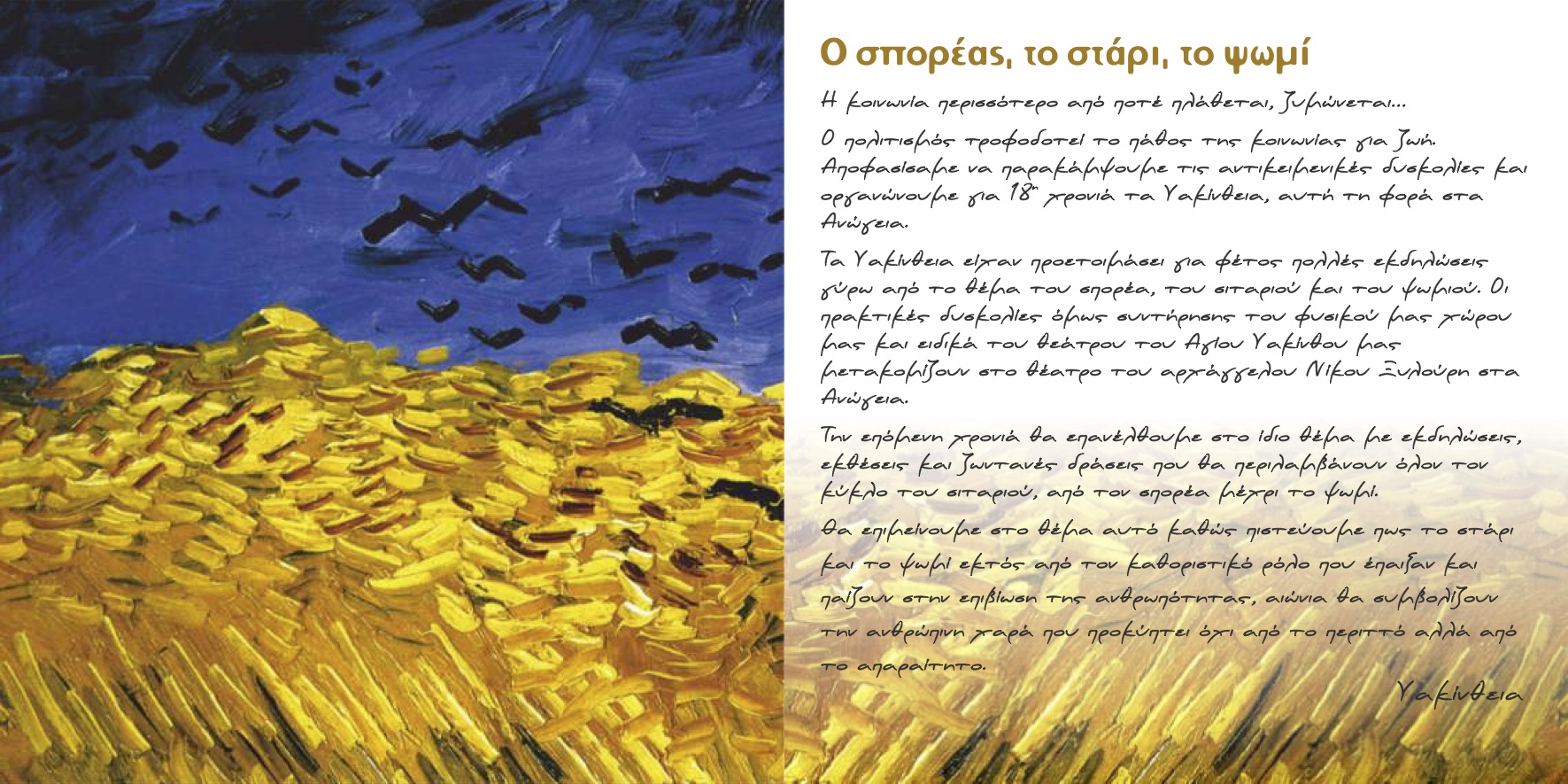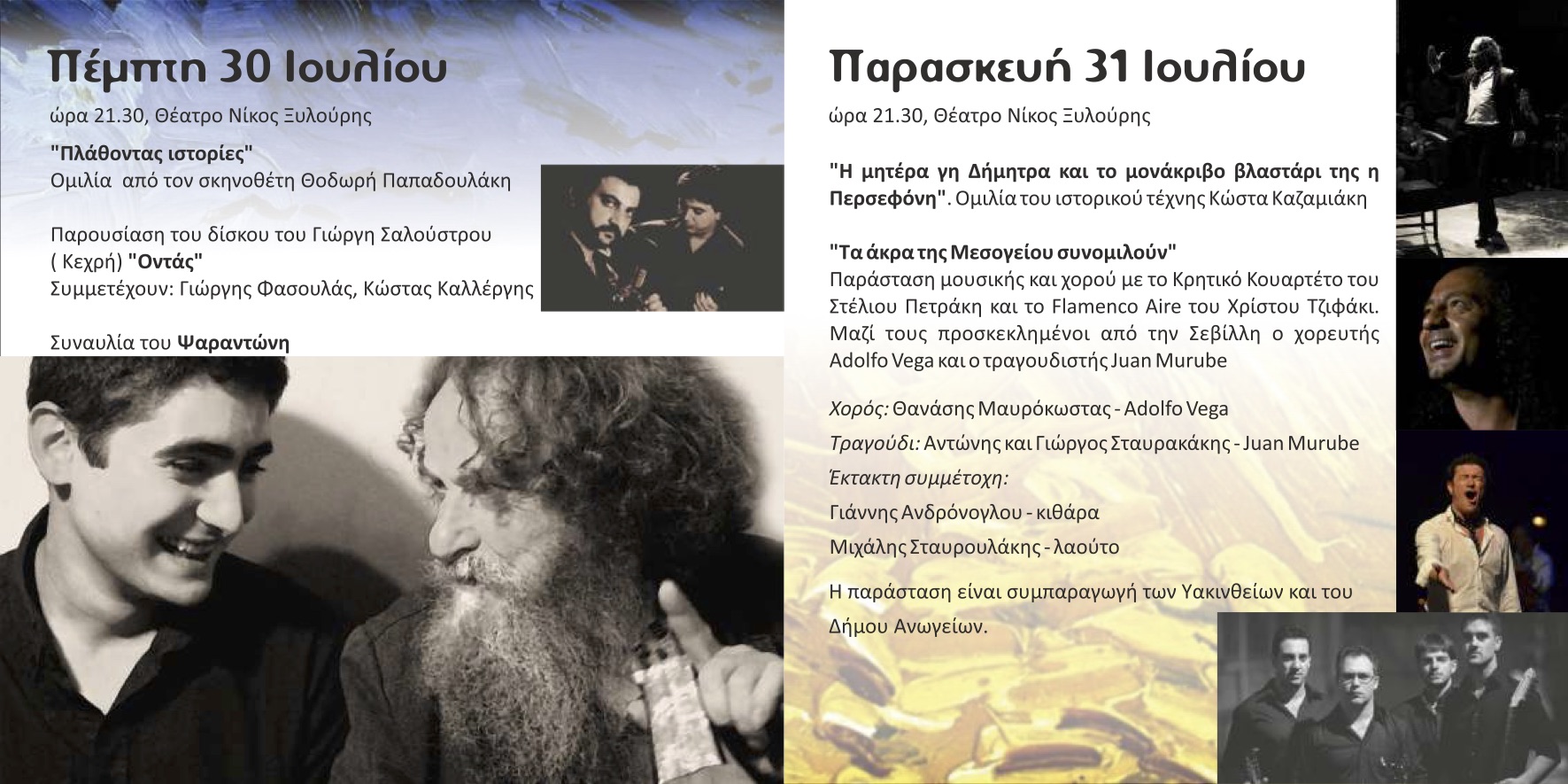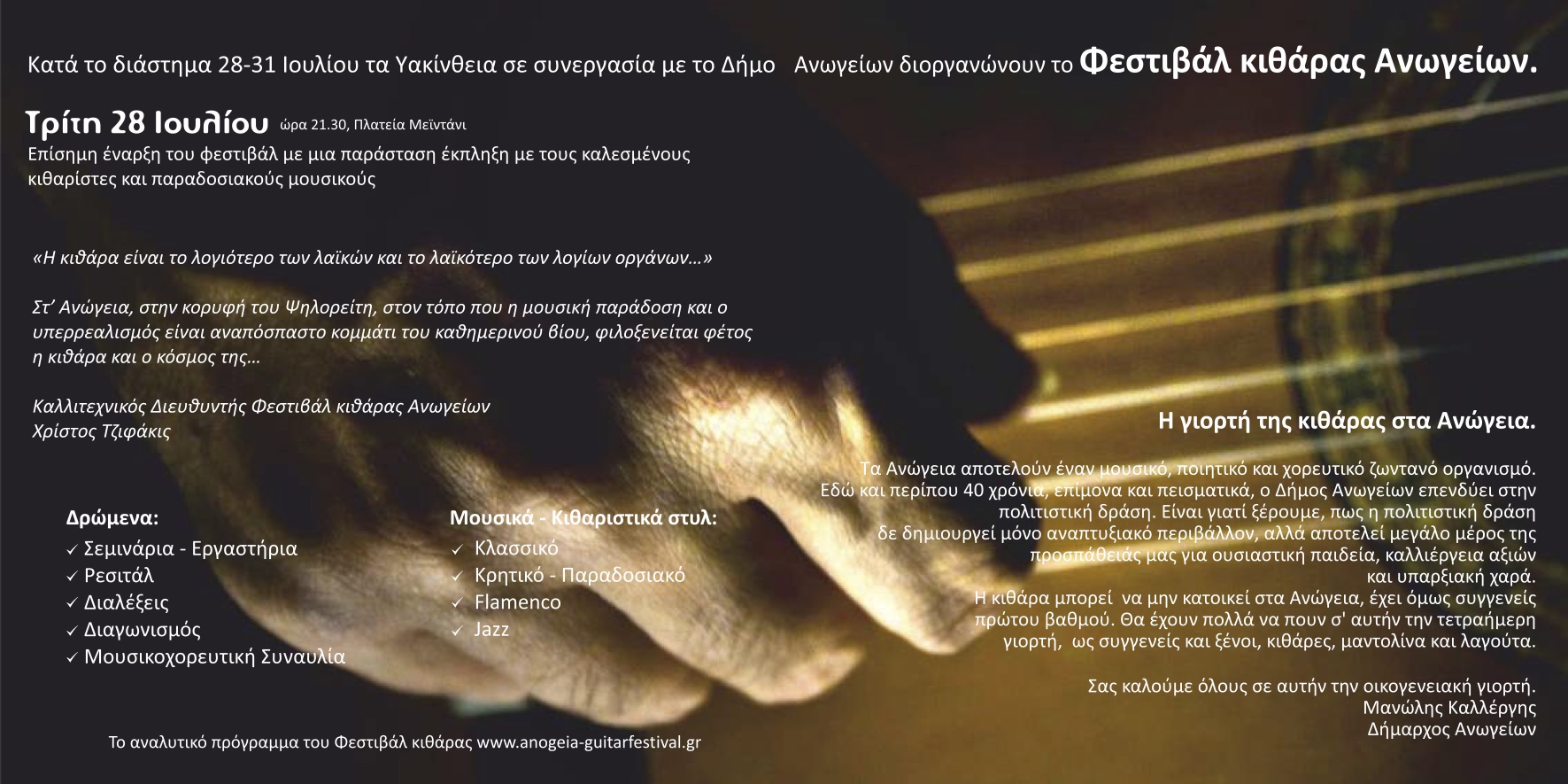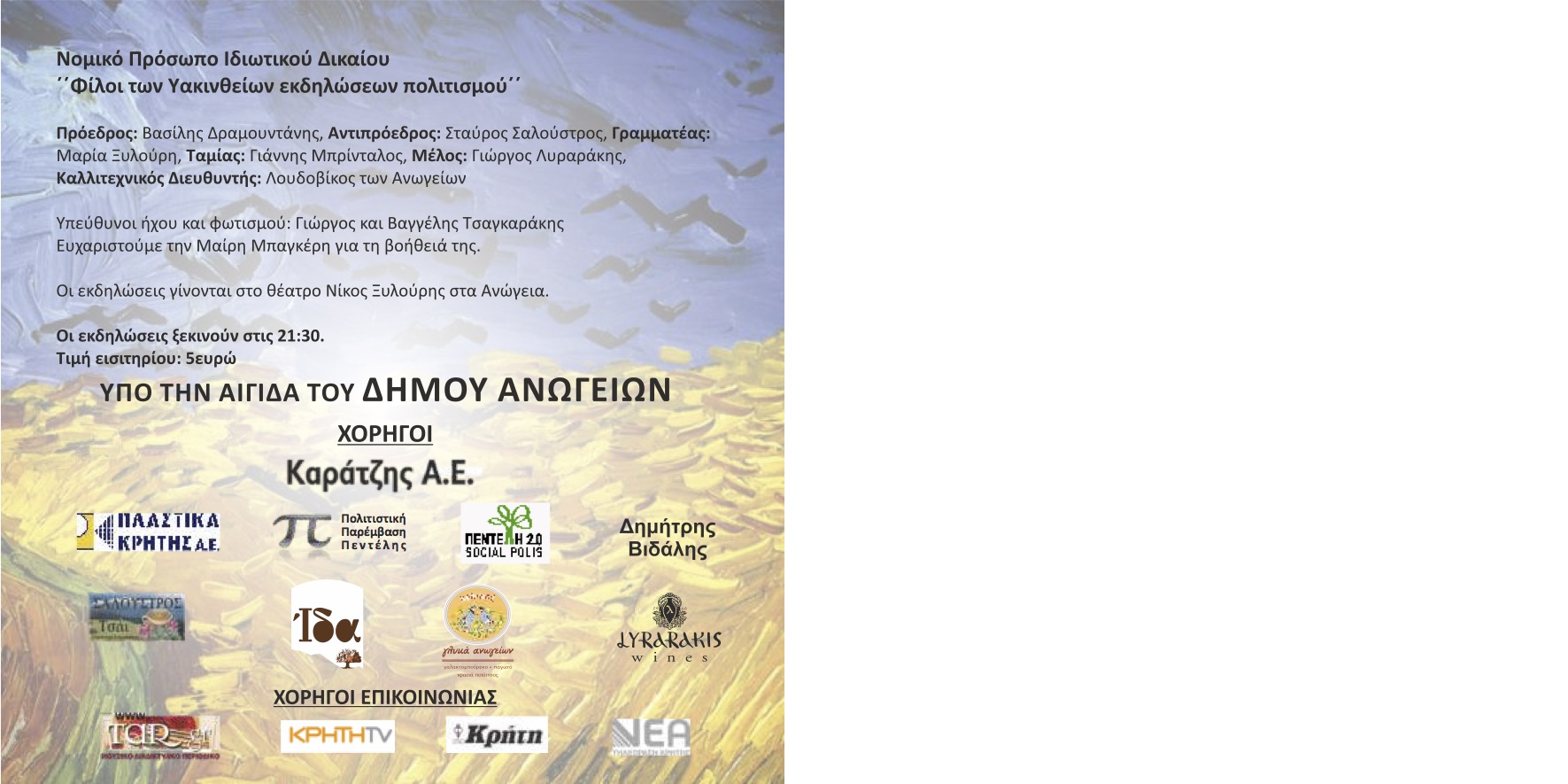 The society is, more than ever, molded, kneaded ...
For the first time, after 18 years, Yakinthia carried out in the theater 'Nikos Xylouris' in Anogeia.

Culture feeds the passion for life. We decided to bypass the objective difficulties and organize Yakinthia, for the 18th year, this time in Anogeia.
Yakinthia had prepared for this year many events around the topic of the sower, the wheat and bread. Practical difficulties of maintenance to our physical space and especially our theater of St. Hyacinth moved us to the theater of archangel "Nikos Xylouris".
Next year we will return to the topic with live events, exhibitions and actions comprising the whole wheat cycle, from seed to bread.
We will stay on this topic, because we believe that wheat and bread, apart from the key role played and play in the survival of humanity, will forever symbolize the human joy that arises not from the excess but from the essential.


EVENTS PROGRAM
Thursday 30 July, Theater Nikos Xilouris
"Crafting stories", by director Theo Papadoulakis
Psarantonis Concert
Album Presentation of George Saloustros (Kechris) "Ondas" Participants: George Fassoulas Kostas Kallergis


Friday 31 July, Theater Nikos Xilouris
''The mother earth Demetra and her only sprout Persephone '. Speech by Costas Kazamiakis Art Historian
'Two edges of Mediterranean are chatting'
Music and dance show with the Cretan Quartet Stelios Petrakis and Flamenco Aire Christos Tzifakis with guests from Sevilla, artists of flamenco Adolfo Vega and Juan Murube.
Dance: Thanasis Mavrokostas- Adolfo Vega
Singing: Juan Murube-Antonis Stavrakakis - George Stavrakakis
Bass: Michael Evdemon
Drums: Pedro Fabian
Palmas: Valerios Ioannides
Guest appearance: Yannis Andronoglou - guitar, Michael Stavrakakis - laouto