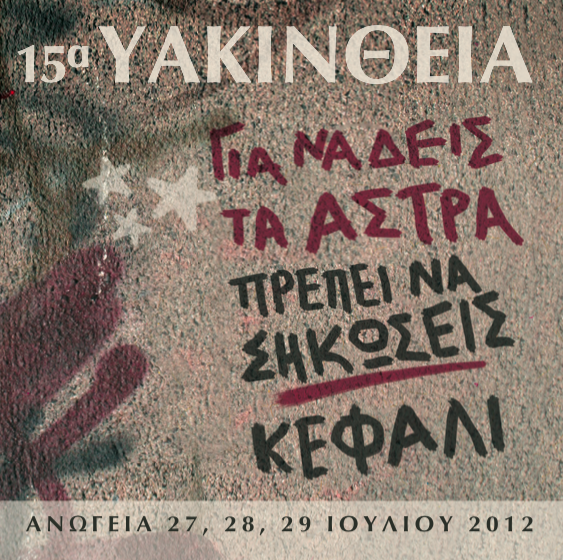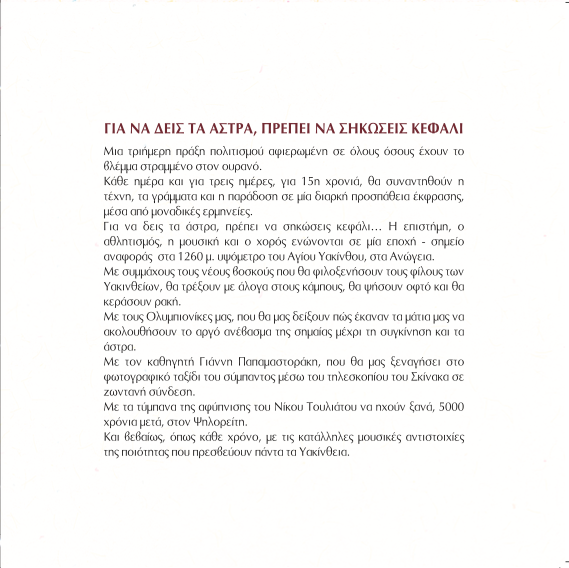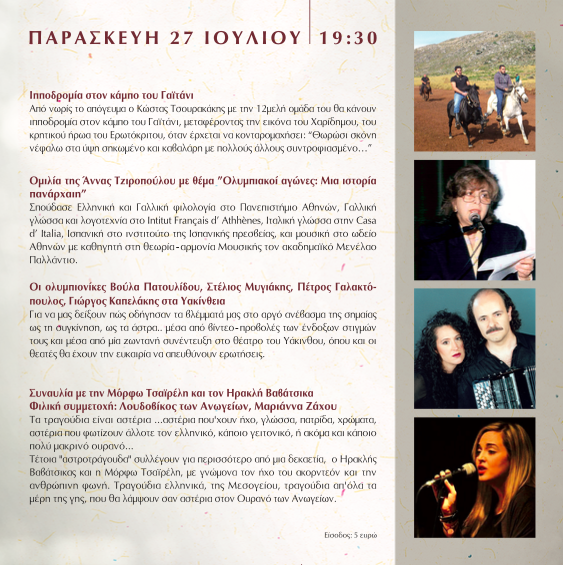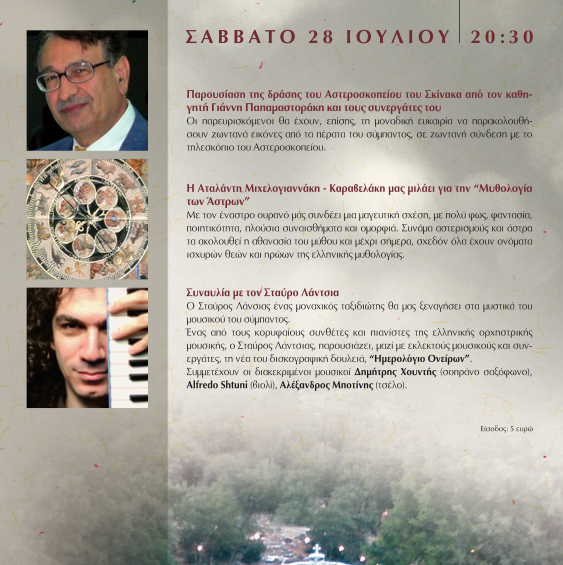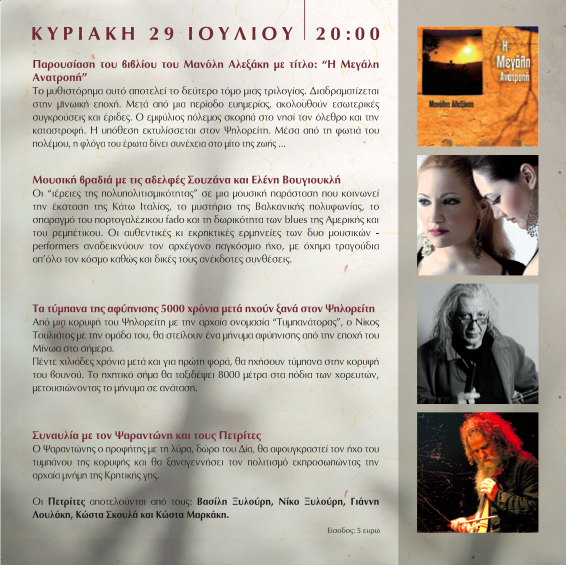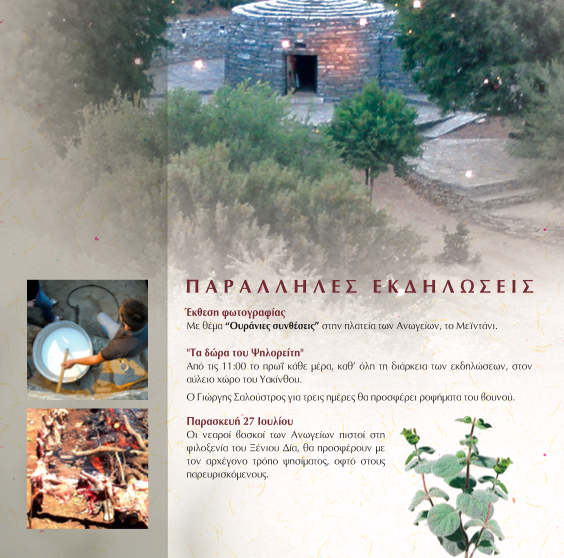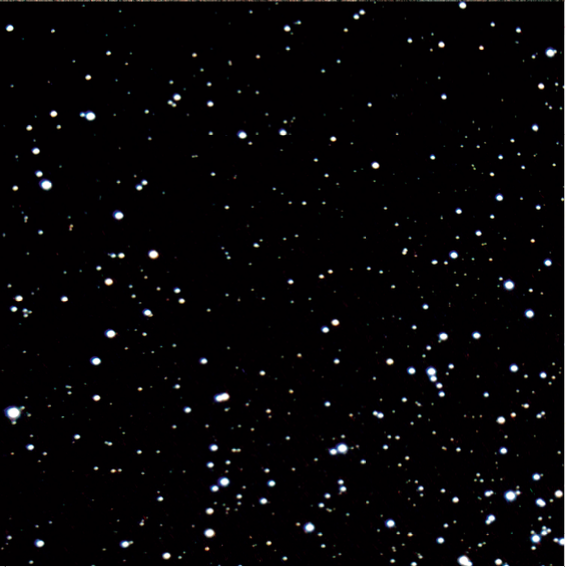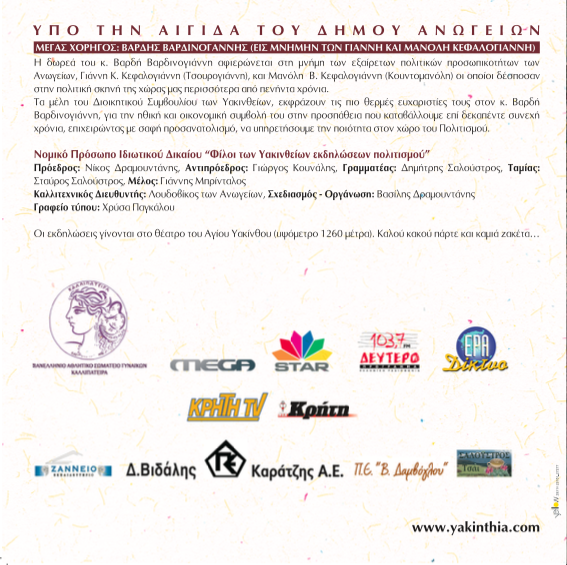 A three-day cultural event on 27, 28 and 29 June, dedicated to all those who have a glance in the sky.
Every day, for three days, for the 15th year, art, literature and tradition b> met in a lasting expression effort, through unique interpretations.


To see the stars, you have to raise your head…
Science, Culture, Sports, Music and Dance finally come together in a time-reference point, at 1260m. altitude of Saint Yakinthos, in Anogeia. b>


On the first day b> the speech of Anna Tziropoulou on OLYMPIC GAMES: An ancient History b>, marked the beginning and gave the torch to Olympic athletes, Voula Patoulidou, John Melissanidis, Demosthenes Snuff, Stelios Miyake , Peter Galaktopoulos George Kapelakis and others, to show us how they lead our glances to follow the slow raising of the flag, as emotion, to the stars .. through video-projections of the glorious moments and through a live interview in the theater of Hyacinth, where visitors had the opportunity to ask questions. Followed by a musical evening with Morpho Tsaireli, Iraklis Vavatsikas, Marianna Zachos and also Loudovikos of Anogeia.

On the second day, b> in a one all-inclusive presentation of the Observatory of Skinakas action by Professor Yiannis Papamastorakis and his colleagues for the first time, we had the unique opportunity to connect with the "celestial bodies" of Yakinthos. Once the telescope photographed the vast universe, we saw live images in videowall. With references to the mythical scene and poetry, Atalanti Michelogiannaki-Karavelaki talked about the mythology of the Stars and then followed by a magical musical evening with Stavros Lantsias.

On the third day, b> Manolis Alexakis presented his book entitled "A flame, a fire", while sisters Susanna and Helen Vougioukli kept us company musically. From a top of Psiloritis with the ancient name "Tympanatoras", Nikos Touliatos with his team, sent a message from the time of Minos to today. 5000 years later and for the first time, drums were heard on top of the mountain. The audio signal traveled 8000 meters to the feet of the dancers, transforming the message to an exaltation. Kostas Tsourakakis and his 12-member team made a race in the valley of Gaitani, carrying the image of Charidimos, the Cretan hero of Erotokritos when he comes to fight: «Θωρώσι σκόνη νέφαλω στα ύψη σηκωμένο και καβαλάρη με πολλούς άλλους συντροφιασμένο…». The evening continued with Petrites and closed with Psarantonis.

On the first day, b> young shepherds of Anogeia loyal to hospitality of Xenios Zeus, offered to attendees, lamb baked by the primitive way of cooking, while Giorgis Saloustros for three days offered drinks of mountain herbs. A photo exhibition with heavenly compositions was decorating all days Meidani square of Anogeia.