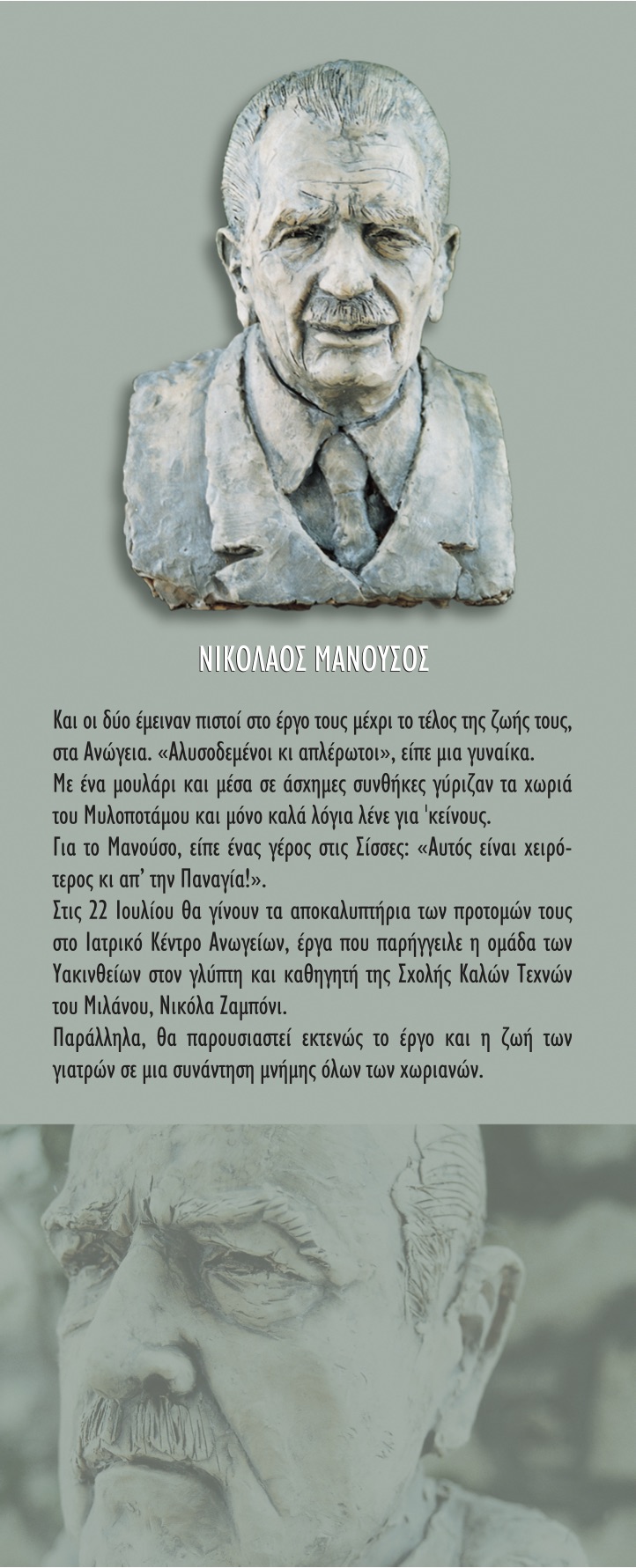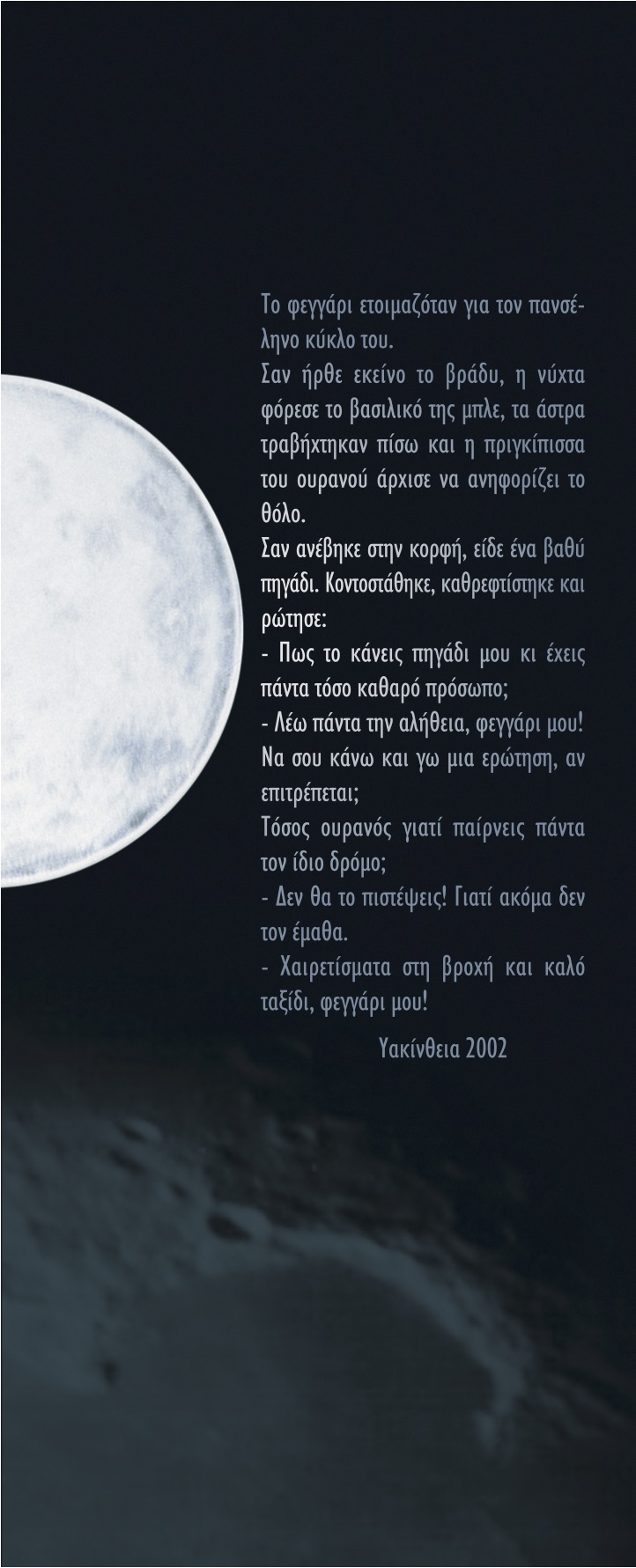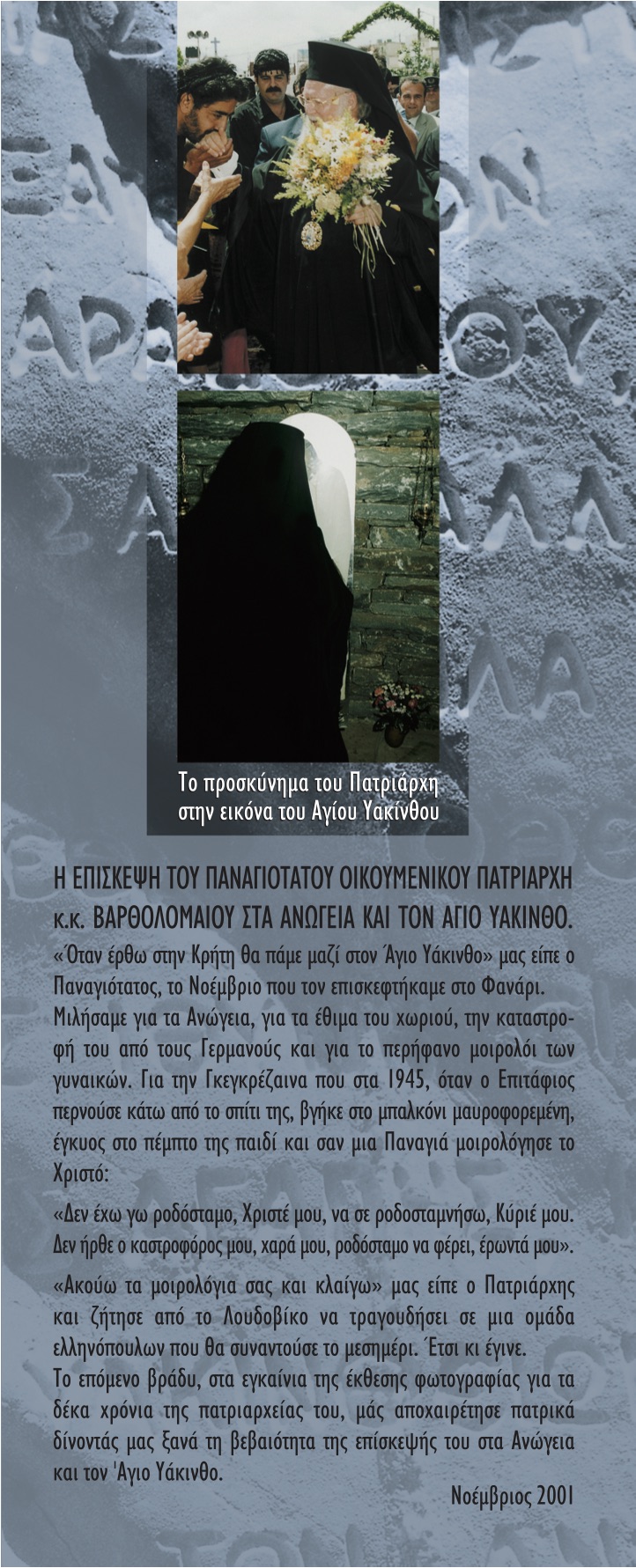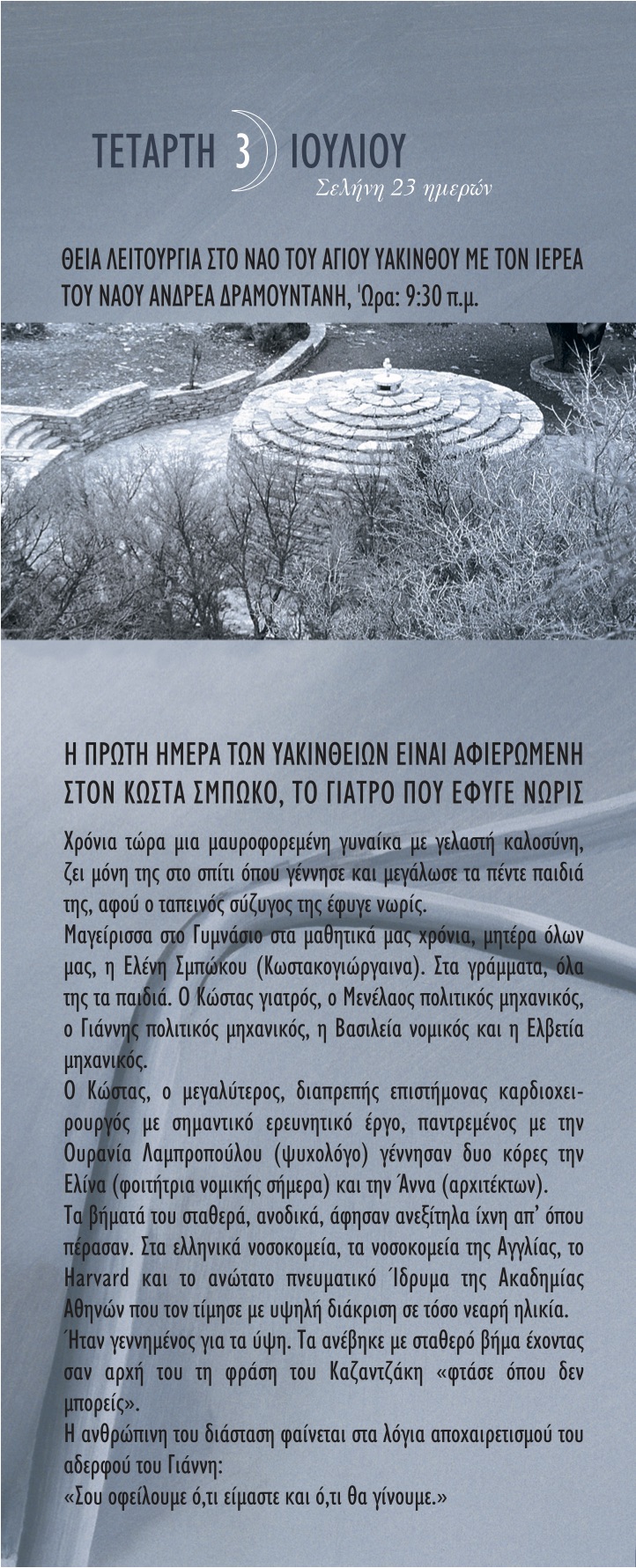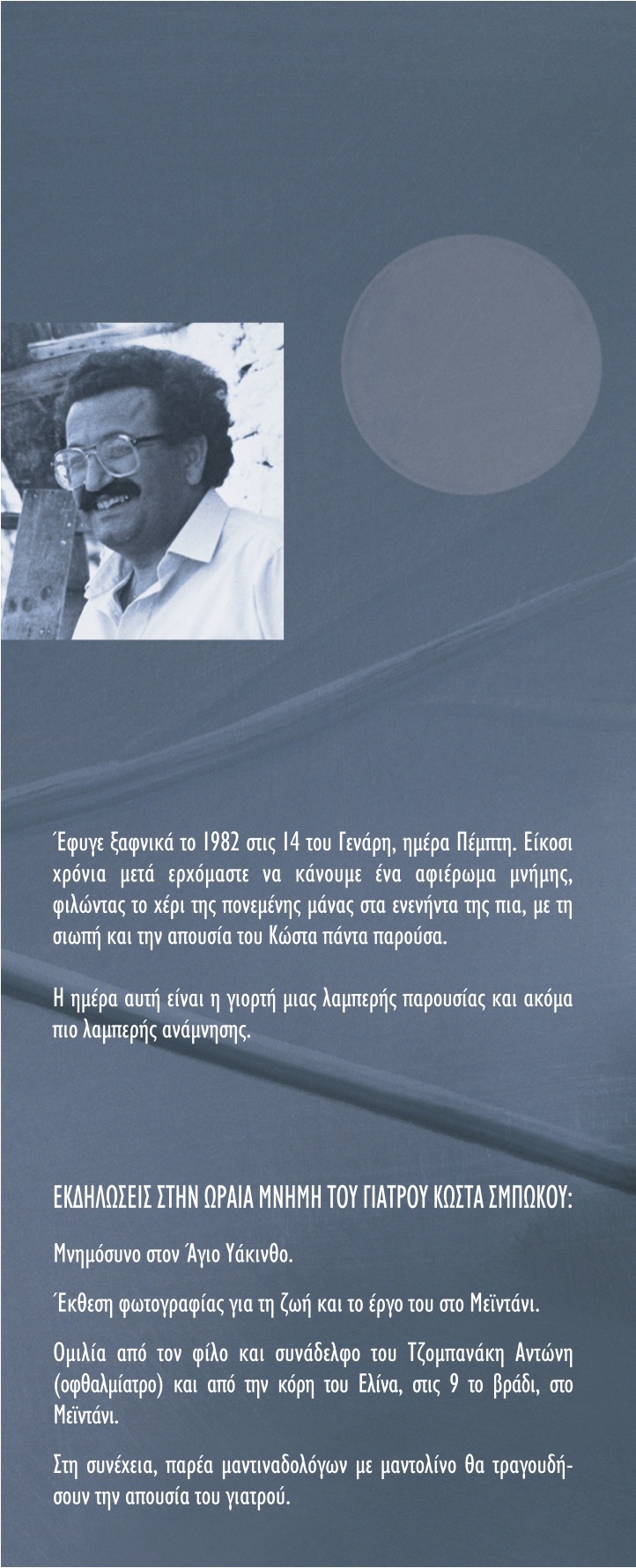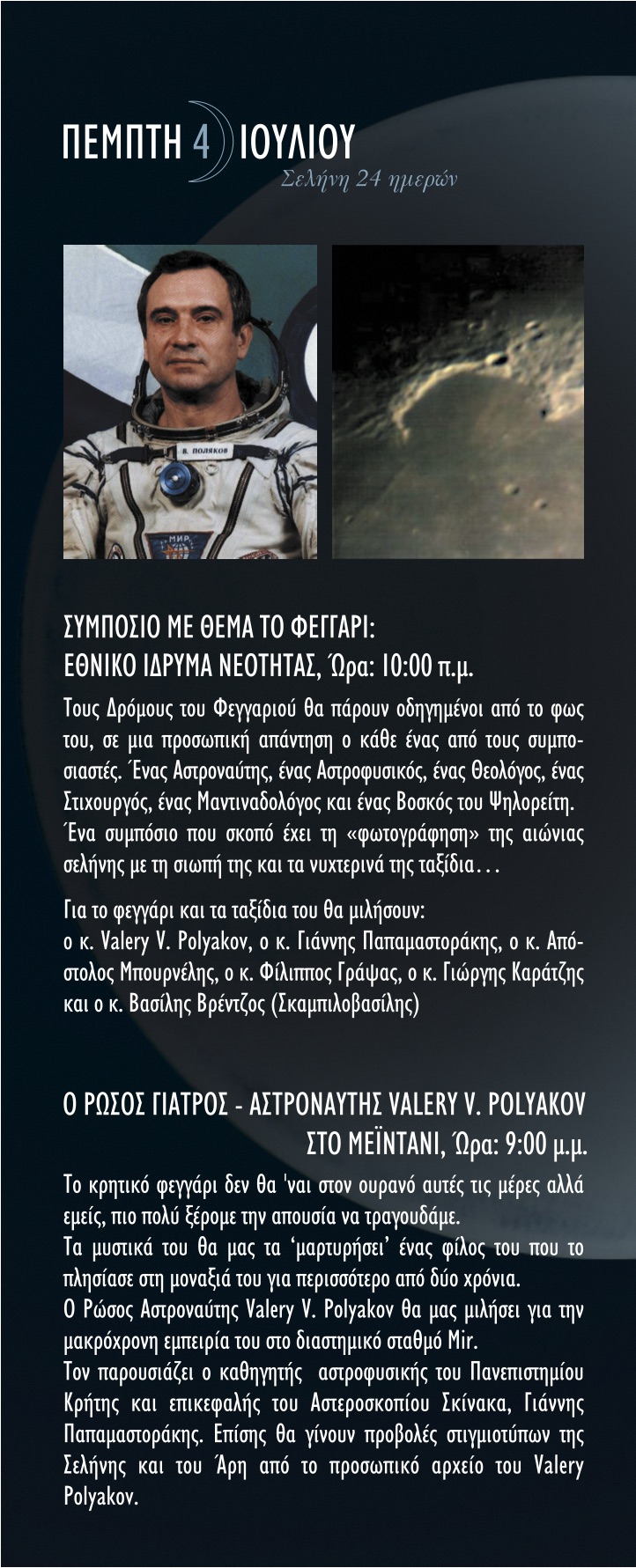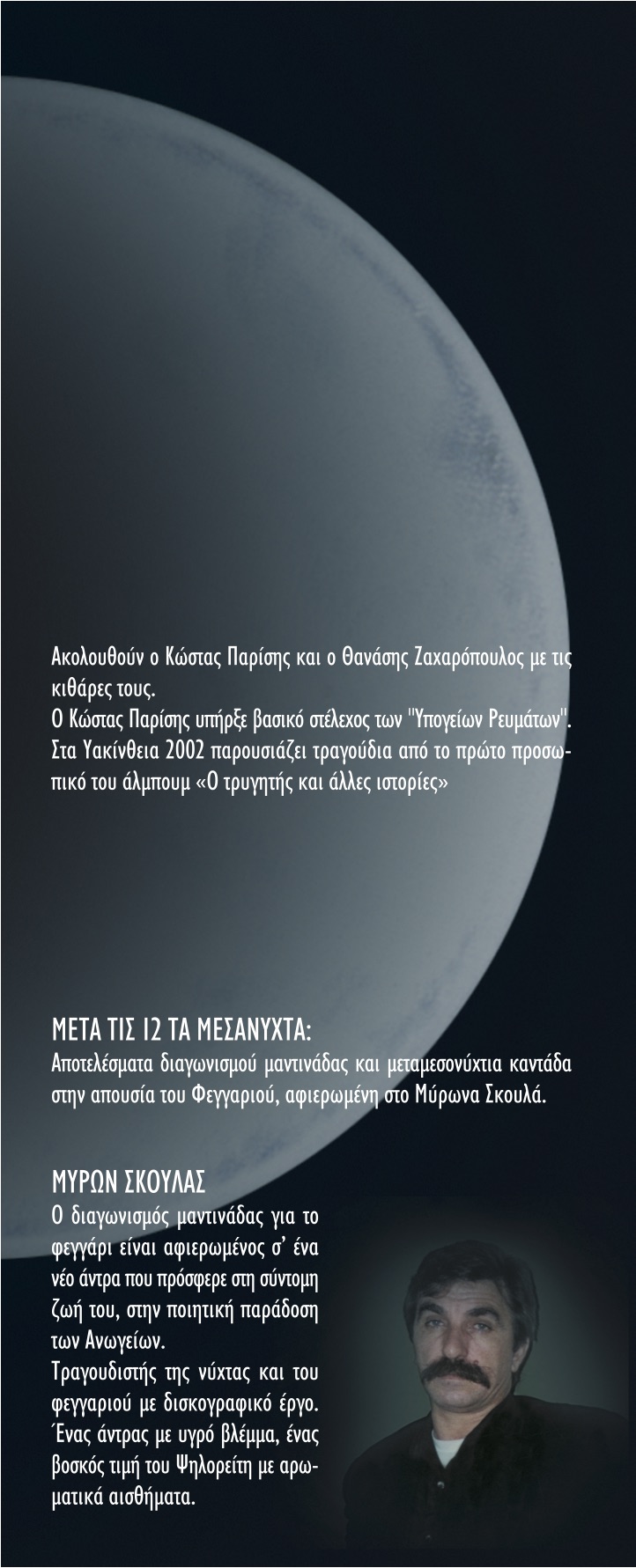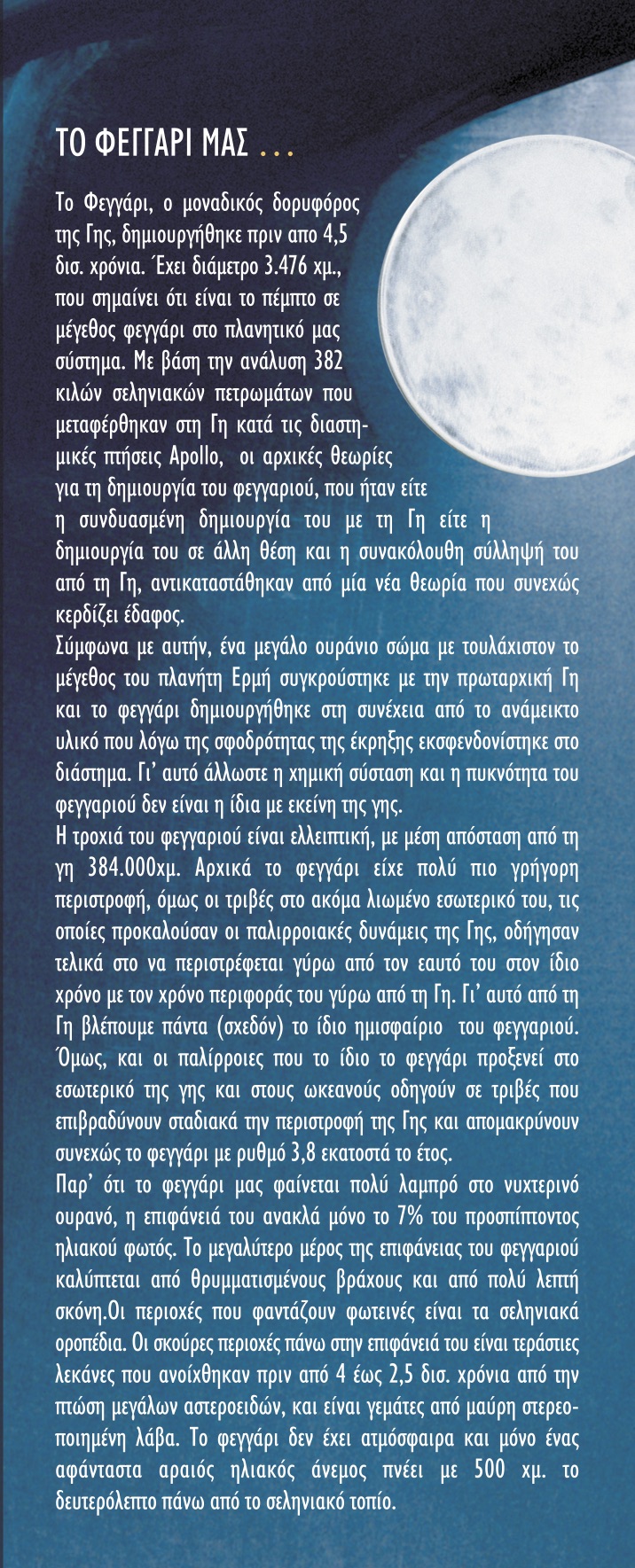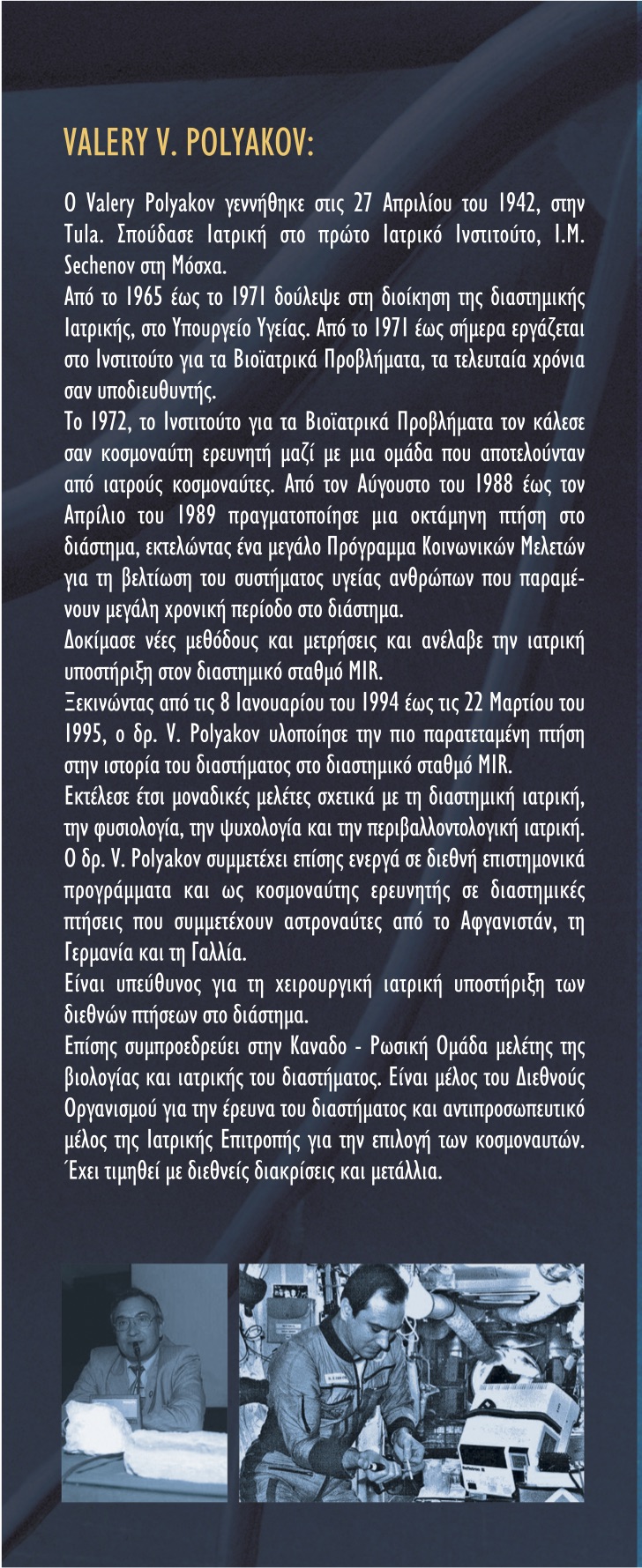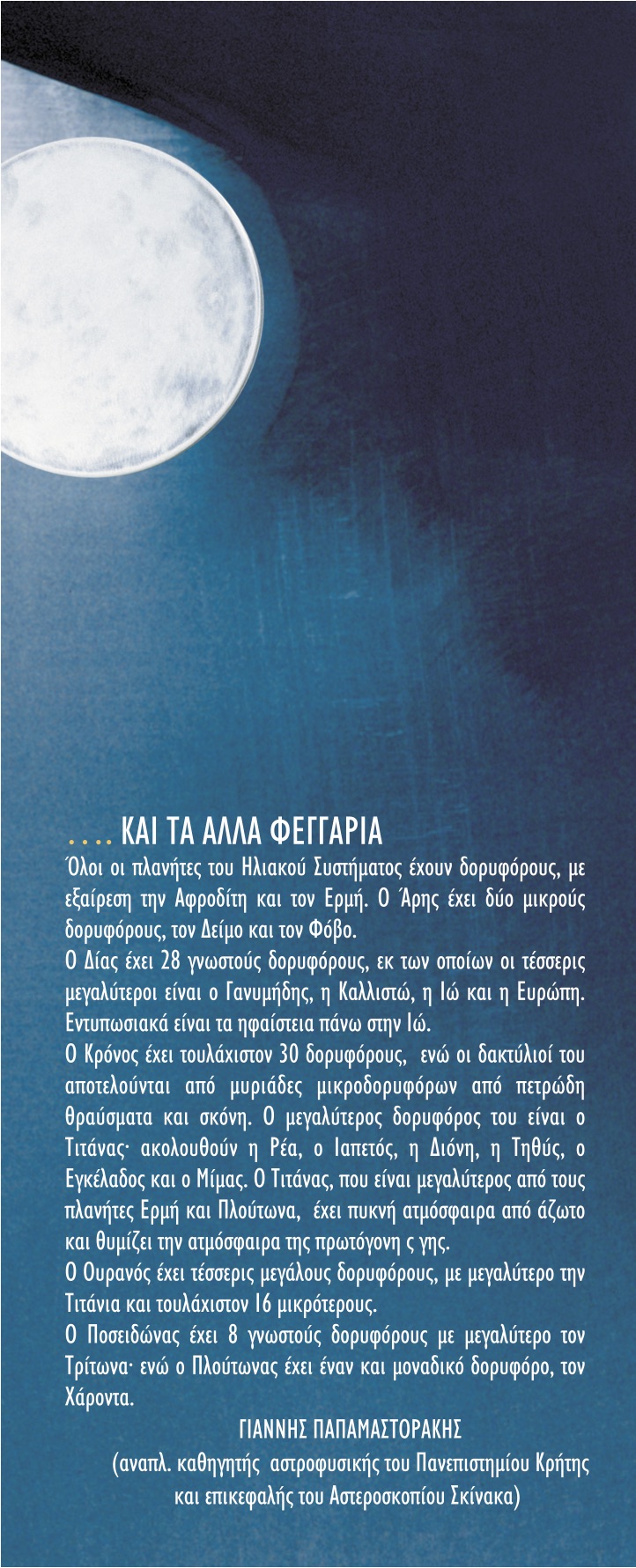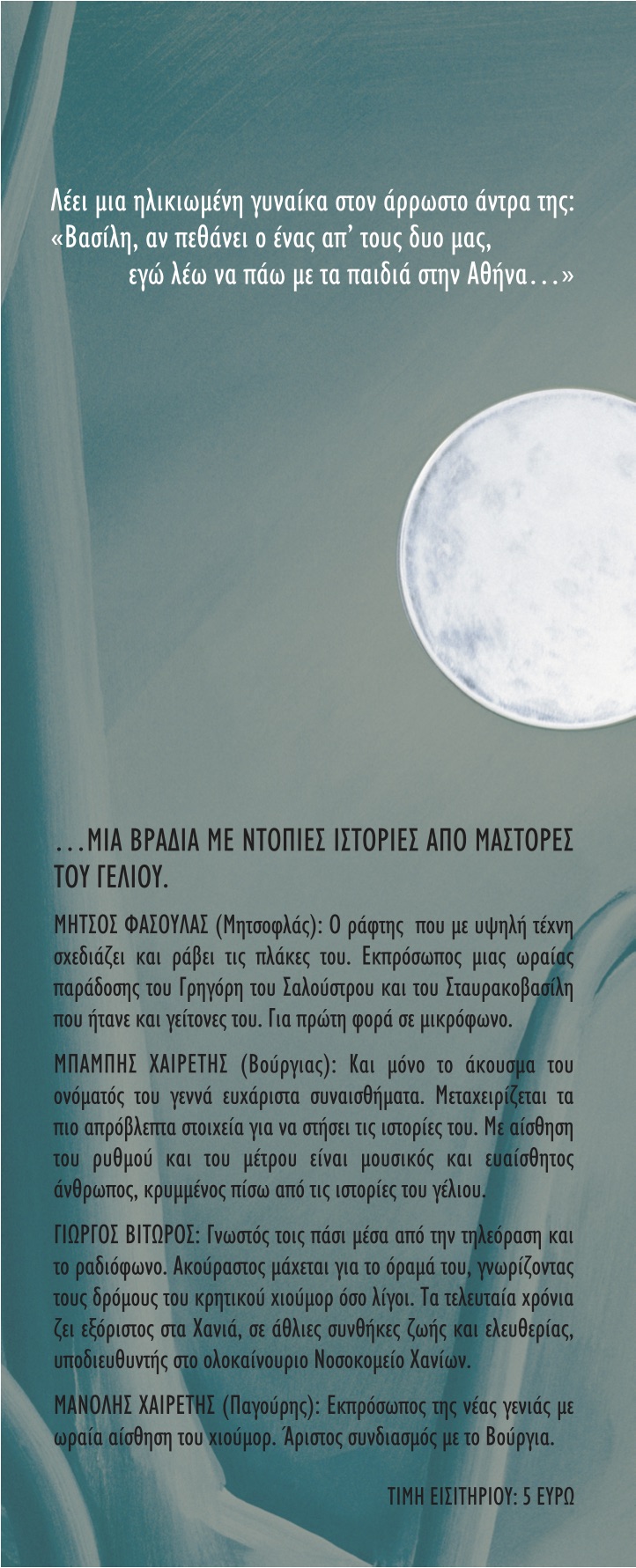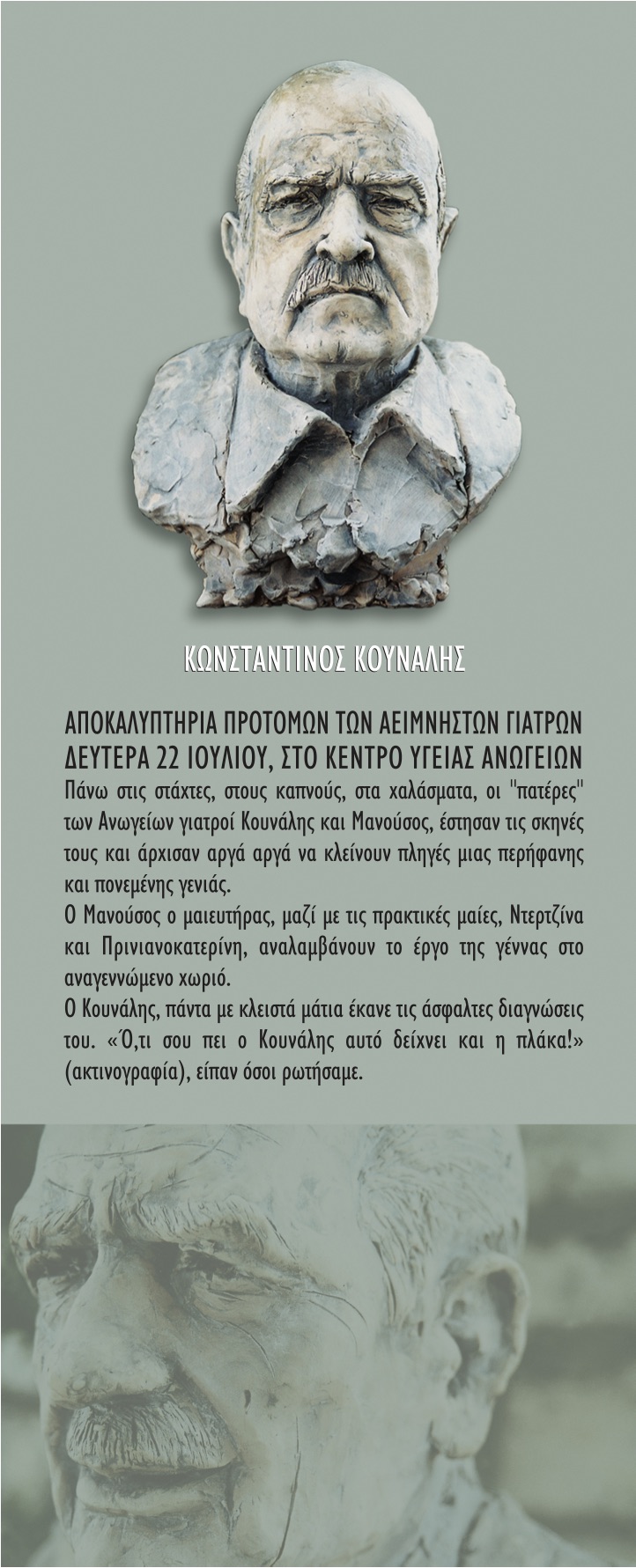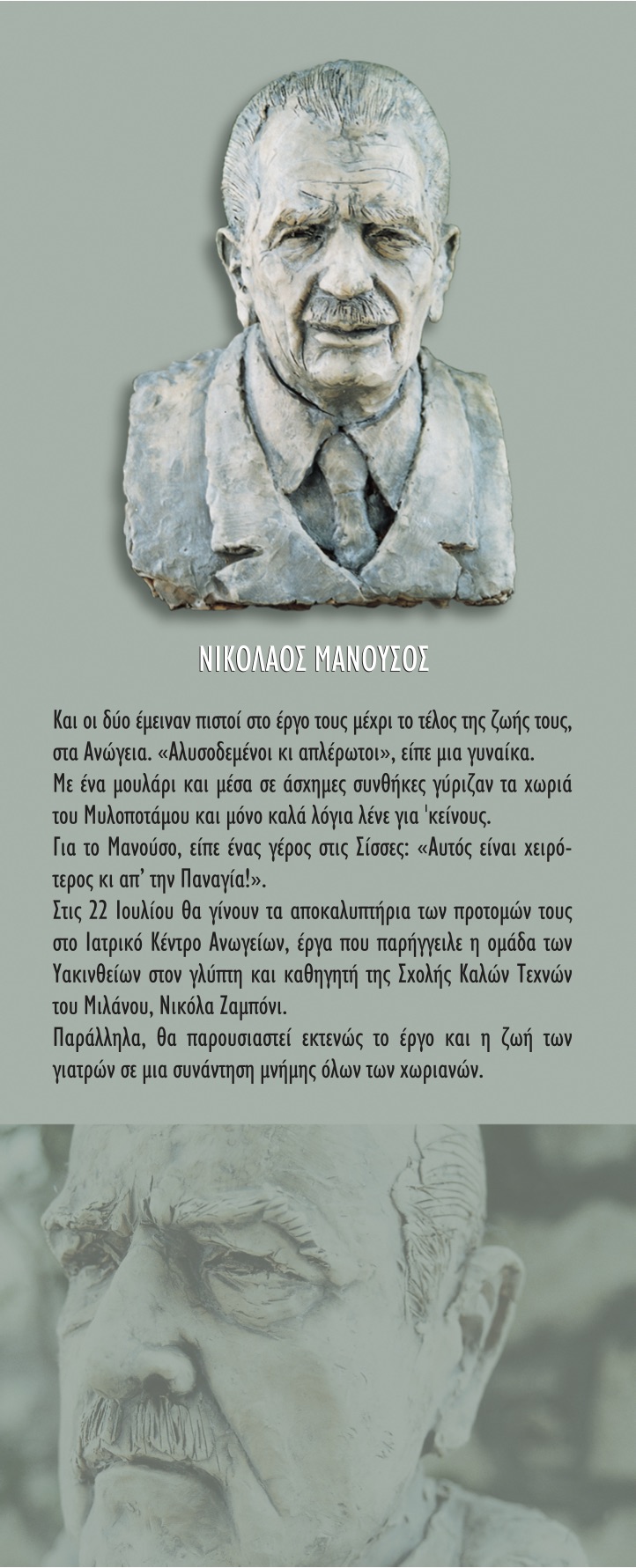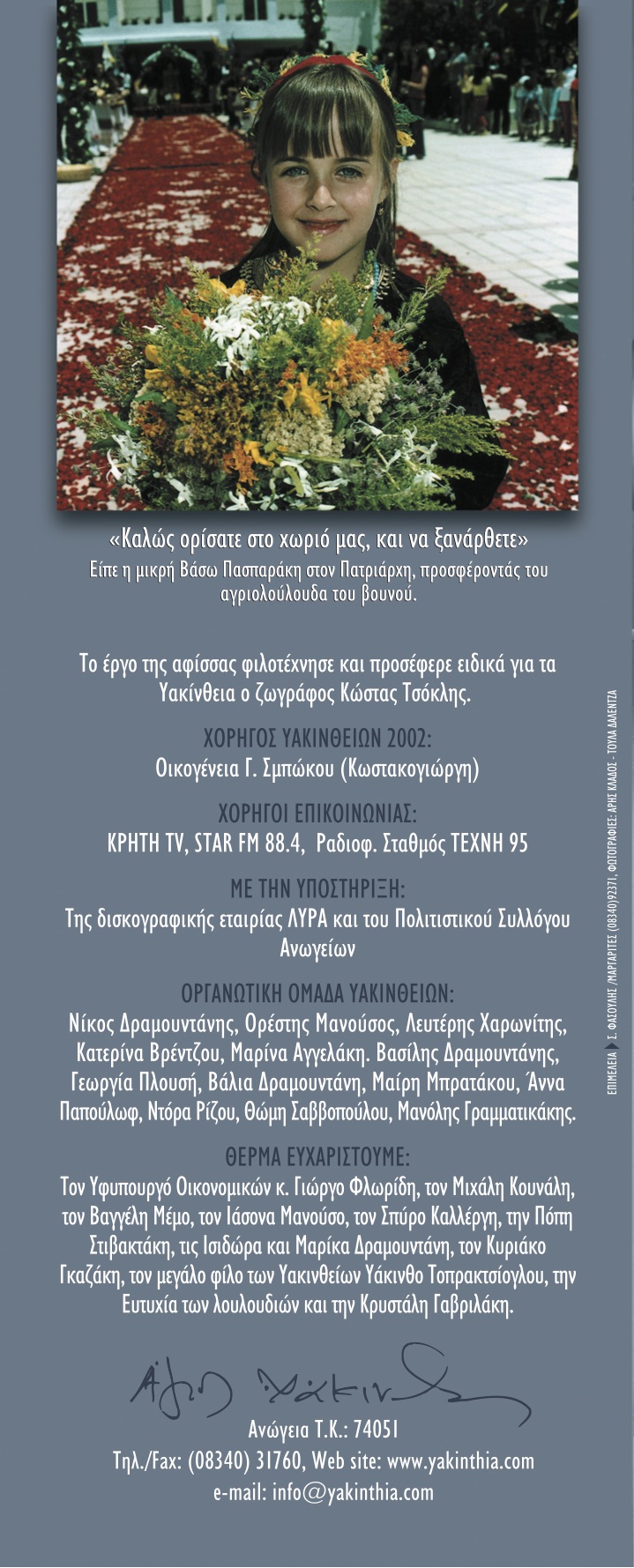 Yakinthia started on Wednesday 3 July, the day of St. Yakinth celebration. The 3rd of July, this year, was dedicated to heart surgeon Sbokos Kostas, who has gone early.
 In the morning there was a Holy Liturgy in St. Hyacinth chapel. Events of first day were dedicated in memory of Kostas Sbokos.:
-Commemoration in St. Hyacinth.
-Photo exhibition of his life and work in Meidani square.
-Speech by his friend and colleague Me Tzobanakis Antonis (Eye specialist Doctor) and by his daughter Elina, at 9.00 pm in Meidani square.

Then a group of "mantinadologoi" along with a mandolin sang for Kostas absence.

Thursday 4th of July

Symposium on "the moon", in the National youth institute

Routes of the Moon followed led by its light, in a personal answer each one of the symposiasts. An astronaut, an astrophysicist, a Theologian, a Lyricist, a Mantinadologos and one of Psiloritis Shepherd.

A symposium that was meant to "photograph" eternal moon with its silence and its night journeys.

For the moon and its journeys will speak:
Mr. Valery V. Polyakov, Mr Yannis Papamastorakis, Mr. Apostolos Bournelis, Mr. Filippos Grapsas, Mr. George Karatzis and Mr. Vasilis Vrentzos (Skabilovasilis)

The Russian doctor - astronaut VALERY V. POLYAKOV in Meidani square: 

«The cretan moon will not be in the sky these days, but we know to sing mostly the absence. The secrets of the moon will be witnessed to us by its friend that approached it in its lonelyness for more than two years. The Russian astronaut Valery V. Polyakov will speak to us for his experience of the two years stay in the space station "Mir"» said members of the organizing committee. He was presented by Assoc. Professor of Astrophysics at the University of Crete and chief of Observatory "Skinakas", Yannis Papamastorakis. He, also, projected snapshots of the Moon and Mars from the personal archive of Valery Polyakov.

This was followed by Kostas Parisis and Thanassis Zaharopoulos with their guitars.

Kostas Parisis was a key member of "Ypogeia Refmata". In Yakinthia 2002 he presented songs from his first solo album.
«Trigitis and other stories»

After midnight:
Results of mantinada contest and midnight serenade in the absence of the Moon, dedicated to Myron Skoulas the mantinadologist and singer who has gone early.
Friday  5th of July
Musical concert in St. Hyacinth
In "Kouradovrisi" next to St. Hyacinth, was the major concert of Yakinthia with Panos Katsimihas and the musical group "Anihti Thalassa".
The concert was opened by Loudovikos of Anogeia with Lizeta Kalimeri and Marianna Polychronidi.
The"Anihti Thalassa" are: Lefteris Balaselis (electric guitar), George Vasilatos (acoustic guitar, vocals), Peristera Gouma (bass), Vangelis Markantonis (bass, vocals), Gregory Flementakis (drums).
Musicians that played with Panos Katsimichas: Dimitris Karagiannis (wind instruments), Mprouna (violin), Nikos Saltas (keyboards).
Sound Edited by Dimitris Mpaklavas – Nikos Lavaris
Lighting: Yannis Memos.
Musicians that played with Loudovikos of Anogeia: George Pavlakos (piano and orchestration), George Bechlivanoglou (guitar), Tasos Misirlis (cello), Costas Lolos (violin), Vasilis Dramountanis (oud), Christina Chompitaki (drums).
Saturday 6th of July
THE ART OF LAUGHING IN THE THEATER "NIKOS XYLOURIS"
«A day without laugh is a lost day!»
"ETSI DE" came to Yakinthia 2002 with a blase attitude and annotations of actor Renos Haralambidis.  "ETSI DE" are Yannis, Dimitris and Michalis.
Funny stories are a part of our seriousness. They teach, speak ironically and cauterize with no offense, usually. A night with local stories from masters of laughter. Narrated: Dimitris Fassoulas (Mitsoflas), Babis Heretis (Vourgias), George Vitoros and Manolis Heretis (Pagouris).